Producer Graham King criticises British film industry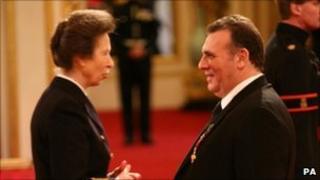 Oscar-winning producer Graham King has criticised the British film industry, saying it is "not run well enough for the talent that we have".
In an interview with Radio 4's The Film Programme, he said Hollywood still leads the way in cinema.
The Departed producer added that he always tells prospective producers to go to Hollywood because "that's where the movies get made".
Mr King is currently publicising his latest film London Boulevard.
"We have the best writers, the best directors and some of the best actors in the world, so why don't we make the best movies, why don't we make bigger movies, why don't we moves for a broader audience?" he said.
"I'm a big fan of rolling the dice, going bigger. It's all about the product, it's all about development of material.
"They do spend a lot of money here, they just spend it in other ways that maybe aren't as constructive as Hollywood."
In July it was announced that the Department for Culture, Media and Sport (DCMS) was axing the UK Film Council.
The organisation was set up by the Labour government to develop and promote the British film industry.
Since the announcement, a number of people in the industry have spoken out against the decision, including director Mike Leigh and actor-director Clint Eastwood.
Mr King's other film credits include Blood Diamond, The Aviator and Ali.
He was appointed an Officer of the Order of the British Empire (OBE) in the 2010 New Year Honours, which he collected at Buckingham Palace earlier this month.