Brendan Fraser Broadway debut shuts after one week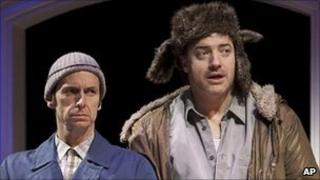 Hollywood actor Brendan Fraser's Broadway production of Oscar-nominated Norwegian film Elling has ended its run after just a week.
A show spokesman confirmed last week its final performance would be on 28 November.
The production, which officially opened on 21 November, received mixed reviews.
The New York Times said it lacked the "gentle humanity and sly, understated humour of the movie version".
The 2001 film was nominated for the best foreign language movie at the Academy Awards.
In the play, Fraser and co-star Denis O'Hare played two men who, having been released from a mental institution, have to adjust to normal life.
Mark Kennedy reviewed the production, at the Ethel Barrymore Theatre, for The Associated Press.
"The play strives for shades of Samuel Beckett's Waiting for Godot and, with Fraser's massive, stout character looming over a thin, thoughtful O'Hare, recalls John Steinbeck's Of Mice and Men," he said.
"The depth of those works, though, aren't present in this light, sentimental comedy."
Terry Teachout called the play "relentlessly sentimental and comprehensively unfunny" in the Wall Street Journal.
Elling was well received in London, when it opened in the West End in 2007 with Keir Charles and John Simm in the lead roles.