Artist Mark Sinckler defends 7/7 bomb mural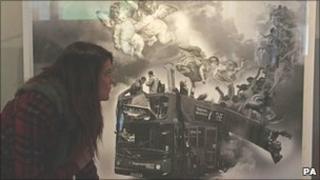 The artist behind a controversial mural depicting the wreckage of the bus destroyed in the 7 July London terror attacks has defended his work.
Mark Sinckler said he wanted the piece, titled Age of Shiva, to "jolt" people into thinking about the potential effects of faith.
The black and white print depicts the remnants of the bus which has angels flying above it.
It is currently on show at the Marks & Stencils pop-up gallery in London.
"What I'm trying to do is to make anyone that has a faith, a belief, or an idea they hold close to their heart to think about the impact of these ideas when they leave their heads," Sinckler said.
"I wanted to jolt people into seeing the results of these thoughts put into action."
The inquest into the 2005 attacks, which killed 52 people, began last month at London's Royal Courts of Justice.
'Quite upsetting'
"It is a grotesque thing that happened. The inquiry is to establish the facts and find out out what happened and to make sure something like this doesn't happen again and that is partly what my image is trying to do," Sinckler said.
"It is meant to make people think about the effects of faith."
John Falding, whose partner Anat Rosenberg died in the Tavistock Square attack, said he found the picture "quite upsetting".
He said: "One of the problems is that the image of the bus is the iconic image of the 7/7 attacks, but it is always upsetting when you see it being used, quite justifiably, in papers or on the TV.
"But it goes further to see it used as a work of art, which is quite unnecessary.
"I think the artist has got talent and it was well-executed and I accept he is not trying to be controversial, but I think the timing is unfortunate with the inquest going on."
The exhibition is organised by Pictures on Walls, who market the work of graffiti artist Banksy.