Ana Maria Matute wins Cervantes Prize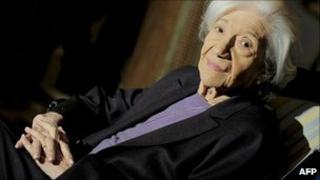 Spanish novelist Ana Maria Matute has won the Cervantes Prize, the Spanish-speaking world's highest literary honour.
The 85-year-old said she was "enormously happy" to win the 125,000 euro (£106,000) Spanish prize.
Matute is regarded as one of Spain's best post-Civil War writers and her work often centres on the conflict.
The author is only the third woman to win the award since it was created in 1975.
Spain's Maria Zambrano received the award in 1988 and Cuba's Dulce Maria Loynaz took the honour in 1992.
"I take it as a recognition, if not of the quality of my work, then at least of the effort and dedication that I have devoted to writing throughout my life," Matute said at a news conference in Madrid.
Children's books
Among her most popular novels - which have been translated into 23 languages - include Los Abel (The Abels), Los Soldados Lloran de Noche (Soldiers Cry By Night) and La Trampa (The Trap), which all portray the era and atmosphere of the Spanish Civil War.
Known for her lyrical style, Matute's novels deal with the lives of children and adolescents.
She is also known for her children's books and young adult novels, including Los Ninos Tontos (The Stupid Children) and El Verdadero Final de La Bella Durmiente (The True Story of Sleeping Beauty).
"She deserved winning this award a long time ago, but it is better late than never," Peruvian-born Mario Vargas Llosa, the winner of this year's Nobel Prize for Literature, told Spanish public radio.
"I am certain that many readers around the world are going to be pleased with this news, as I am," added Vargas Llosa, who won the Cervantes Prize in 1994.