Sylvester McCoy stays silent over upcoming Hobbit role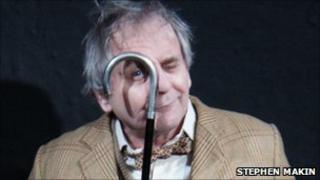 Actor Sylvester McCoy talks about his love of Evelyn Waugh, his role in The Hobbit and his time in Doctor Who.
"I love Evelyn Waugh," says Sylvester McCoy during the final week of rehearsals for the first ever stage adaptation of his 1928 novel Decline and Fall.
"I thought this sounded like an adventure. I like adventures!"
Best known for playing the seventh Doctor Who in the late 1980s, McCoy was recently cast in the two Hobbit films due to begin filming in New Zealand next year
First, though, is a Christmas season in a 60-seat pub theatre in Islington, north London.
"I started reading Waugh in the 1960s," explains McCoy at the Old Red Lion pub theatre where Decline and Fall opens this week.
"He made me laugh, he's outrageous, he's a bit of a right-winger. A bit?" He laughs. "That's an understatement!
"But you forgive him for all that stuff because he's so witty.
"You can tell he's influenced all the great comic actors and writers of the present. It echoes all the way through," he continues.
"When you're going through the script you think - oh, John Cleese said that."
McCoy leads a cast of seven in Waugh's comic tale, adapted for the stage by Henry Filloux-Bennett from the novel and Waugh's diaries and letters.
Set in the 1920s, it tells the story of Paul Pennyfeather - an Oxford student who begins a downwards spiral after being expelled for indecent behaviour.
The production has the blessing of Evelyn Waugh's grandson, Alexander. But how does Waugh's comic dialogue translate to the stage?
"He builds up punchlines beautifully, and all you have to do is speak them with absolute clarity," says McCoy.
"People just laugh. We haven't done it in front of an audience, but that's been the experience in rehearsals."
McCoy's recent theatre credits include roles in the musical Little Shop of Horrors and in King Lear alongside Sir Ian McKellen.
The mention of Sir Ian steers the conversation onto Peter Jackson's upcoming Hobbit films.
With the internet awash with casting rumours, how much can McCoy actually say? After all, his role has not been officially announced.
"I can't say anything! I don't even know if I've said too much already," he admits.
"I've already got my wrist gently tapped. I just want to tell the world about it... I know it's all bubbling away and plans are being made."
McCoy is no stranger to Peter Jackson. He was down to the last two for the role of Bilbo Baggins in Lord of the Rings.
"The other actor got it, and that was Ian Holm," says McCoy.
How does he feel about just missing out on such a major part?
"In a way you think, what a pity Ian Holm wasn't working that week," he says wistfully.
"But at the same time it was an honour to be up against Ian. He won, and he's a brilliant actor.
"As an actor this happens all the time. You never know which way things go."
That also holds true for the Hobbit's drawn-out casting process. "When they sent out the character description for the part I'm playing, it says he's between 57 and 75.
"When it started out I was 57, but it's taken so long to get to fruition I'm now 75!" (Not so - he is actually 67.)
Before McCoy flies to New Zealand for The Hobbit, he's doing a Scottish radio comedy, appearing in a British film and recording more Doctor Who audio dramas.
How much of his life does Doctor Who still take up? "It allows me to travel the world," he says.
"Two months ago I came back from Australia and New Zealand and I was on a cruise earlier in the year to Alaska that was Who-related. I was a lucky little fellow to get that job."
With such a busy schedule, McCoy admits he doesn't have a lot of time to watch the new Doctor Who episodes.
"I haven't seen a lot of it," he says, "but I think Matt Smith's great.
"I was dead set against it when it was announced, because I thought he was too young.
"There's still a part of me that believes what was great about Doctor Who in the early days was that you had a superhero who didn't wear his underpants on the outside of his trousers, who used his brain rather than his brawn.
"But I'm converted," McCoy concludes. "I think he's terrific."
Decline and Fall runs Old Red Lion Theatre, Islington from 30 November to 8 January.