Bob Hoskins leads BBC International Emmy charge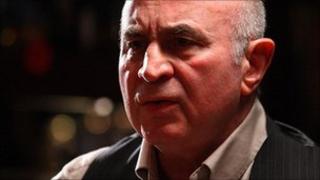 Acting awards for Bob Hoskins and Helena Bonham Carter were among five prizes won by BBC productions at the International Emmys in New York.
Hoskins, 68, won best actor for his role in now defunct BBC One show The Street, which also won best drama.
Bonham Carter won best actress for an Enid Blyton biopic, Small Island won best mini-series and CBBC show Shaun The Sheep won the children's award.
X Factor's Simon Cowell won a special award for his TV and charity work.
"When I think back over 10 years, I can genuinely say I've had the best time I've ever had in my life," said Cowell, who was presented with his award by media mogul Rupert Murdoch.
Cowell, 51, who earlier this year quit as a judge of US talent show American Idol - aired on Murdoch-owned TV channel Fox - added: "Whoever said fame, money, success will destroy you is completely wrong."
The Street, which ran for three series and also starred actors including Anna Friel, Matt Smith, Timothy Spall and Jim Broadbent, followed the lives of neighbours living on the same Manchester road.
In July 2009, Jimmy McGovern announced the programme was ending because of cuts to the Manchester drama department of ITV Studios, which made The Street for the BBC.
He told BBC Radio 4's Front Row he would not take the drama to another producer.
Hoskins won for his role as a reformed alcoholic pub landlord who took a stand against a local gangster.
Bonham Carter co-starred with Pride and Prejudice actor Matthew Macfadyen in BBC Four biopic Enid, which offered an unflinching view of the Famous Five author's difficult childhood, portraying her as an inadequate mother to her two daughters.
Argentine satire
Neither Hoskins or Bonham Carter were at the awards, hosted by actor Jason Priestley.
BBC One two-parter Small Island, meanwhile, starring Sherlock Holmes actor Benedict Cumberbatch and Naomie Harris, was based on Andrea Levy's novel about the racism and poverty faced by Jamaican immigrants living in London during and after World War II.
British productions were nominated in nine of the 10 categories and were absent only from the Telenovela category, which was won by Portuguese production My Love.
It followed the lives of three strangers whose lives intertwined after a plane crash.
Best comedy went to Israel's Traffic Light, about the friendship of three 30-something childhood friends.
Argentine satirical news review CQC won the non-scripted entertainment award and Romanian programme The World According to Ion B - about a homeless man who became a leading contemporary artist - won the arts prize.
The documentary prize, meanwhile, went to South Korea's Mom and the Red Bean Cake, the story of a single mother with cancer who supports her family by selling cakes.