Wainwright to perform at Royal Opera House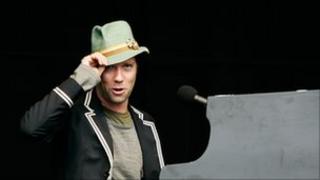 Singer-songwriter Rufus Wainwright is to perform his Judy Garland tribute show at London's Royal Opera House
The five-day residency in July will include two performances of Rufus Does Judy!, which Wainwright premiered at Carnegie Hall in New York in 2006.
The concerts will also include a version of Wainwright's debut opera, Prima Donna, which premiered in Manchester earlier this year.
His sister Martha and father Loudon will also appear.
Wainwright said the concerts would be the only chance for fans to see him in Europe in 2011.
He credited his mother, the late folk singer Kate McGarrigle, with instilling him with a love of opera.
"It was all that I listened to and all that I cared about for many, many years until I had to go to music school and actually work," he said.
Deborah Bull, creative director of the Royal Opera House, said she was "excited" about the concerts.
"Our stage is renowned the world over as a place where a wide range of singers tell stories and engage emotions through the power of the human voice," she said.
"And these performances by Rufus and his family will continue in this tradition, whilst extending the diversity of the artists and the musical genres we offer."
Wainwright's Judy Garland tribute is a recreation of the singer's Judy Garland's legendary 1961 concert at Carnegie Hall.
Garland's original show has often been called the greatest single night in show-business history.
Songs performed included Chicago and Over The Rainbow.