Lost star Matthew Fox set for UK stage debut
By Tim Masters
Entertainment correspondent, BBC News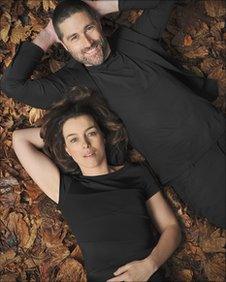 The star of US TV series Lost, Matthew Fox, is to make his British stage debut in the world premiere of a new play by US writer Neil LaBute.
Fox, who played Dr Jack Shephard in the desert-island TV drama, will star alongside British actress Olivia Williams.
In A Forest, Dark And Deep is described as a comedy which "escalates into a psychological thriller".
It is due to open at London's Vaudeville Theatre in March 2011.
Fox stars as Bobby - who helps his sister Betty (Williams), clear out her cabin in the forest.
The 44-year-old actor told the BBC that he wanted to return to the theatre partly because of working on a marathon TV series like Lost, which ended after six years in May.
"I've done two six-year television shows now," Fox said. "It's got be somewhere in the neighbourhood of 275 hours of television, and a handful of films."
He added: "I never really think of it in terms of theatre, film, TV - what's going to be next for me? I want to get involved in stories that speak to me. This one happened to be a play in the West End of London which has always been a dream of mine."
Writer and director LaBute's plays include The Shape Of Things, Fat Pig, The Mercy Seat and Some Girl(s), which starred former Friends actor David Schwimmer in London in 2005.
LaBute said of his new play: "It was a treat to write. I love the dynamics of family and men and women clashing."
His film work includes In the Company of Men, Nurse Betty, The Wicker Man and Death at a Funeral.
The play is also the first time Olivia Williams has appeared in the commercial heart of the West End. Her previous theatre roles have been at the National Theatre and the Barbican. Her film credits include The Sixth Sense, An Education and The Ghost.
The production begins previews from 3 March and runs until 4 June.
Related Internet Links
The BBC is not responsible for the content of external sites.