John Lydon puts new Public Image Ltd music on hold
By Ian Youngs
Entertainment reporter, BBC News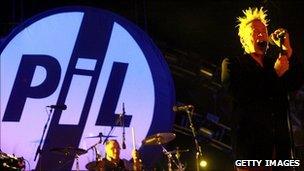 John Lydon has delayed sessions to record new material with Public Image Ltd following the death of his step-daughter, The Slits singer Ari Up.
Up, real name Arianna Forster, died last month at the age of 48.
"We were going to go into the studio but in light of my step-daughter's death, I really can't be doing that at the moment," Lydon said.
"I don't want to leave my wife alone for any length of time right now. So the music side has had to be held."
Up was the daughter of Lydon's wife, German publishing heiress Nora Forster.
Public Image Ltd, the influential band Lydon formed after the Sex Pistols split in 1978, went back on tour last December after a break of 17 years.
However, original bassist Jah Wobble and guitarist Keith Levene were not with them.
Lydon added that the current band "all understand" the reason for the delay.
"They all knew her anyway," he told BBC News. "So it's a good thing that we've taken a breather. It would have been impossible and would have affected the outcome of the record."
The punk legend is currently promoting Mr Rotten's Scrapbook, a limited edition book telling the story of his life featuring photographs from family albums and a handwritten commentary.
Related Internet Links
The BBC is not responsible for the content of external sites.