Dutch celebrities in arts cuts protest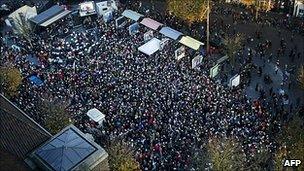 Dutch singers, painters and TV presenters have demonstrated in the Netherlands against government plans to slash arts funding.
The Dutch government has pledged to cut 200 million euros (£171m) from its arts budget over the next five years.
It has also approved plans to raise sales tax on theatre, cinema and concert tickets from 6% to 19%.
Organisers said the cuts had been justified by lawmakers who argued the arts were only for the "wealthy elite".
"A 13% rise in sales tax hits all of the public because tickets get more expensive," organisers said in a manifesto published online.
"By cutting culture budgets and raising tax on tickets, culture will become an elitist pastime and less accessible for people with less money."
In Amsterdam, around 20,000 people gathered on Saturday afternoon on the Leidseplein to listen to music and give protest speeches against the proposed cuts.
Some 2.500 professional and amateur musicians gathered at the Neude square in Utrecht to perform Beethoven's Ninth Symphony.
At The Hague, members of the public held a late-night gathering after theatres and cinemas closed to listen to a trumpeter from a local orchestra play The Last Post and hold a minute's silence.
The slogan for the protests was "The Netherlands screams for culture", where protesters were encouraged to scream to show their anger at the cuts.
The proposed cuts are part of the government's 18 billion euro (£15.4bn) austerity package.