Professor Brian Cox to rejoin D:Ream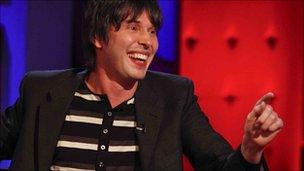 TV scientist Professor Brian Cox has confirmed he is to record again with 1990s pop act D:Ream.
The physicist was originally the band's keyboard player on hits including Things Can Only Get Better.
"It's a new album and I'm playing on a couple of songs," he told 6 Music.
After D:Ream disbanded in 1997, he was awarded a PhD in High Energy Particle Physics in Hamburg, and became a household name with his BBC series Wonders Of The Solar System.
"The album's essentially finished, and Pete [Cunnah - lead singer] called me up and said, 'just for old times sake, do you want to stick a few keyboards on a couple of songs?'"
"I said, 'yeah, brilliant' and actually I'm going into the studio tomorrow."
Professor Cox, who works at the Large Hadron Collider (LHC) at CERN in Switzerland, said his work commitments meant he was unlikely to tour with D:Ream, "although I might try to turn up at a gig somewhere".
"It was a great bit of my life and I just wanted to give it another go," he added.
"But the last time I played with D:Ream was in 1997 at the election. I've probably forgotten how to play."
Related Internet Links
The BBC is not responsible for the content of external sites.