Alastair Campbell up for 'bad sex' literary prize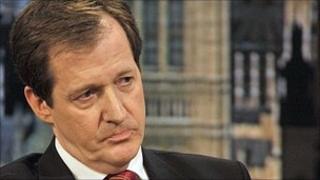 Alastair Campbell, Labour's former director of communications, has been nominated for the Bad Sex in Literature award for an "embarrassing passage of sexual description" in his novel Maya.
Jonathan Franzen's Freedom and The Slap by Christos Tsiolkas are also up for the tongue-in-cheek prize.
Fellow authors Martin Amis and Ian McEwan narrowly missed out on nominations, organisers said.
This year's winner will be announced at a London ceremony on 29 November.
Last year's prize went to Jonathan Littell for his novel The Kindly Ones.
The award, presented by the Literary Review, is limited to the literary novel - a condition that resulted in Tony Blair's memoir A Journey being ruled ineligible.
Its aim is "to draw attention to the crude, tasteless, often perfunctory use of redundant passages of sexual description in the modern novel".
Maya, Campbell's second novel, is about an A-list movie star and her relationship with a life-long friend.
Other books in the running include The Golden Mean by Annabel Lyon, A Life Apart by Neel Mukherjee, Heartbreak by Craig Raine and The Shape of Her by Rowan Somerville.