Arts bodies braced for fresh cuts
By Ian Youngs
Arts reporter, BBC News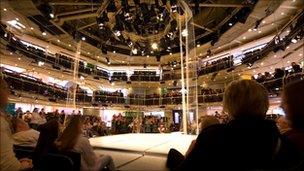 Theatres, galleries and other arts bodies are preparing for a "double whammy" of funding cuts as local councils try to balance their budgets.
The Arts Council England has already said its budget for cultural organisations will fall by 15% by 2015.
Many venues and services also rely on subsidies from local authorities, who have had their funding slashed by 26%.
Somerset County Council recently became the first authority to scrap all direct grants to arts organisations.
That council voted to withdraw £160,000 from 10 organisations including theatres, an arts centre and a film production company.
More authorities around the UK are considering similar moves.
The Association of Greater Manchester Authorities has told recipients of its £3.4m grant scheme, including the Halle Orchestra and Royal Exchange Theatre, to expect funding to be "significantly reduced or withdrawn altogether".
In Darlington, the borough council is preparing to remove its £1.2m subsidy to the town's Arts Centre and Civic Theatre.
Louise De Winter, director of the National Campaign for the Arts, said there are fears that the cuts will be repeated across the country.
Councils will confirm their budgets for the next financial year in the coming months.
"With the massive cuts to local authority budgets, we feared that something like Somerset would happen, and that Somerset would not be alone," Ms De Winter said.
Councils have no legal obligation to provide arts, culture and leisure services, making them a "soft target" when councillors look for savings, she said.
"Local authorities have to balance what they've got, and culture, arts and leisure funding is not statutory. So it is going to be one of the first things that local authorities are going to look at.
"It is our deep fear that, increasingly, councils will go down the route of Somerset because they will have very little room for manoeuvre."
The Halle, based in Manchester, received £821,300 from the Association of Greater Manchester Authorities (Agma) this year - almost 10% of its total budget.
Like all recipients of Arts Council England money, the Halle's grant is being cut by 6.9% next year and the orchestra must reapply for support beyond that.
Halle chief executive John Summers warned the orchestra was in danger of slipping back into the "life-threatening" financial crisis it experienced a decade ago.
"Unfortunately for us, our fixed costs are much higher than a London orchestra," he said. "So significant cuts for us would probably go straight to the heart of the artistic programme."
Orchestras outside London must spend more to put players on contracts because they do not have access to the same pool of world class freelance artists as those in the capital, Mr Summers said.
He said the orchestra was "making the case in any possible way that we can", but added: "We're not going to complain because you've only got to look around you to see that every sector is facing very, very difficult decisions."
One silver lining was a "marked increase" in corporate fundraising this year as the country recovers from recession, he added.
The Royal Exchange Theatre, which receives £232,600 a year from Agma, also has links with companies including Bruntwood and the Co-Operative, and is also looking to expand its individual and corporate fundraising schemes to meet any shortfall.
While benefactors do come forward, their largesse is not on the scale of that shown by Travelex founder Lloyd Dorfman, who recently gave £10m to the National Theatre in London.
"London is a completely different kettle of fish," Royal Exchange executive director Fiona Gasper said. "It's got those banking and financial industries and there's lots and lots of wealth in London which just isn't outside it."
Losing the Agma grant would have "a large impact", she admitted.
"Arts organisations are incredibly resourceful and always have been, and everybody will absolutely take the bull by the horns in terms of going forward and working out what to do. But it is a worrying time."
In Darlington, this week's listings at the two council-run arts venues include jazz, poetry, a family Diwali show and Harold Pinter's The Caretaker.
Darlington Brorough Council has said it is preparing to withdraw its subsidy from the venues, which could lead to their closure. The decision will be ratified in January.
"It would lead to a significant loss to the cultural life of the town," said Paul Harman, who has set up a group called Darlington for Culture and is examining whether the venues could be run as a community co-operative by arts groups and local supporters.
If the Arts Centre and Civic Theatre do shut, some events will not happen while others will be "hidden away in little rooms" in other parts of the town, he warned.
"As a result a substantial proportion of the active minds in the town will leave," he said.
"Richer people can get in their cars and go to Newcastle to enjoy cultural activities but the town itself, and less well off people in the town, will lose out."
Related Internet Links
The BBC is not responsible for the content of external sites.