Unseen Rossetti to go on display in Birmingham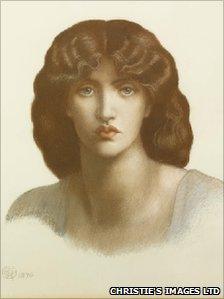 A previously unseen work by Dante Gabriel Rossetti is to go on show at the Birmingham Museum and Art Gallery next year.
Mnemosyne, from 1876, depicts Jane Morris, wife of designer William Morris and Rossetti's main muse during the last decade of his life.
The drawing remained in the artist's studio until his death in 1882 and has been in a private collection since.
It will go on show at the Poetry of Drawing exhibition opening in January.
The large-scale pastel drawing is a study for a painting of Mnemosyne, the personification of Memory in Greek mythology.
Rossetti began work on the painting - which is currently on show at the Delaware Art Museum - in 1876 and completed it in 1881.
The artist fell in love with Jane Morris, drawing and painting her repeatedly, often as characters from mythology and literature.
Her distinctive appearance has come to typify the later Pre-Raphaelite ideal of female beauty.
The exhibition will bring together works from Birmingham's important collections of Pre-Raphaelite and later 19th century art, some of them rarely seen, alongside key loans from public and private lenders.
It includes the earliest appearances in Pre-Raphaelite art of red-haired Elizabeth Siddal who, along with Jane Morris, was the most famous Pre-Raphaelite model.
Related Internet Links
The BBC is not responsible for the content of external sites.