Reggae star Buju Banton free on bail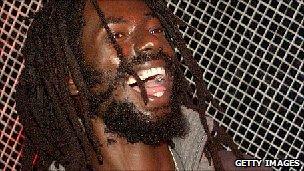 Reggae star Buju Banton has been granted bail by an immigration court in Florida while he awaits a retrial on drug charges.
The Jamaican was released from jail after Bob Marley's son, Stephen, put up his own $300,000 (£186,000) home as collateral.
Banton stood trial in September for allegedly conspiring to buy cocaine from an undercover officer.
A mistrial was declared after jurors failed to reach a verdict.
Under the terms of his bail, the singer - real name Mark Myrie - signed an extradition waiver.
He must also wear an electronic monitoring device and pay a private security team to ensure he does not flee the country.
Banton's lawyer said he was thrilled the 37-year-old, who had been in prison since last December, could spend time at his Miami-area home before his retrial, scheduled for February.
Banton claims he was entrapped by a paid police informant when he was arrested for allegedly conspiring to buy more than five kilograms of cocaine.
Related Internet Links
The BBC is not responsible for the content of external sites.