Journey: The band who did not stop believing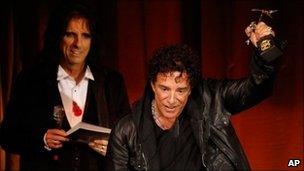 If ever there was an appropriate song title, it was Don't Stop Believin'.
The track, by US soft rock band Journey was first released in 1981.
Nearly 30 years later, downloads of the original song stand at about three million while, according to Journey founder Neal Schon, sales of the version made by the stars of TV series Glee have hit the one billion mark.
"Don't Stop Believin' has just turned out to be a beast, something that we never imagined would happen, and it just keeps going," Schon told BBC News.
"Every day, something new happens with it and it becomes bigger," added the guitarist, who was in London to accept an award from readers of Classic Rock magazine who voted the song's comeback their event of the year.
The songs re-emergence in the UK - it reached number six in December - comes despite its failure to hit the top 40 when it was first released in 1982.
"Musical fashion goes around in a cycle," Schon said.
"There's not so much classic rock around these days, but there is an overabundance of other kinds of music."
He said the UK was a different place from "when I was growing up and you were producing some of the greatest guitarists in the world, like Jimmy Page".
"I think people have just looked to something different occasionally - to songs with great melodies, that have a message and a meaning - and I guess that's where we've fitted in."
It could be something simpler - the track has featured relentlessly on TV screens for the past couple of years.
It was the final song on the series finale of the popular US show The Sopranos and X Factor winner Joe McElderry covered it on the 2009 series.
But it was Glee's version that propelled both it and the original Journey song into the top 10 early this year.
"I had no clue about The Sopranos using it," Schon confessed.
"The first I knew about it was when the telephone was going nuts from my friends calling.
"There's no doubt about it, it was a huge jolt for the song and I think it was the start of it really taking off."
He said the Glee take on it was "so different from our version".
It's just vocals, really, if it has been a classic instrumental version, and they had ended up getting so many more downloads than us, I think I would have been really, really jealous.
"But as it is, I thought it was very interesting."
The band, who have released 12 studio albums since their eponymous debut in 1975, have always enjoyed huge success in the US but they may be less familiar to British fans.
With the record sales achieved by Journey, 56-year-old Schon could be forgiven for staying at home and counting the royalties.
But the band are working on another album and will tour next year with two other classic rock bands, Foreigner and Styx.
"We really, really don't want to be known for just one song," said Schon.
"It has been good for us though, in the sense that fans who downloaded that are now looking at our other tracks.
"We think we have a lot more to offer than Don't Stop Believin' and hopefully this will open up the back catalogue a bit more."
Schon, who may have thought his best days behind him, is still learning from the lyrics of Don't Stop Believin'.
"When it went top 10 again, I was just pinching myself," he said.
"To be honest, it's like a dream still.
"A very, very good dream from which I never want to wake up."
Journey, Styx and Foreigner will tour the UK from 4-9 June 2011.
Related Internet Links
The BBC is not responsible for the content of external sites.