Could Misfits spawn a US remake?
By Kev Geoghegan
Entertainment reporter, BBC News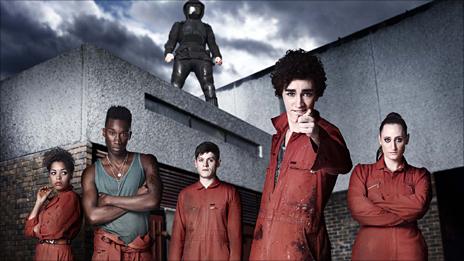 When a newly commissioned series about a band of superhero teenagers with community service orders won the Bafta for best drama ahead of Spooks and The Street, it raised a few eyebrows.
Not least among the cast of Misfits themselves, as shocked as anyone at the Bafta TV awards in June.
"We couldn't even believe we were there walking down the red carpet," explains Nathan Stewart-Jarrett.
"We were happy just to be invited," adds fellow cast member Antonia Thomas.
"I'd just taken my shoes off because I thought we definitely weren't going to win. It was the first category and it was just gob-smacking."
Now, several months on, the second series of Misfits is starting on E4.
It finds the gang back together - with the exception of Robert Sheehan's Nathan, now dead and buried.
Or at least that's what his pals think.
Misfits' success in the UK has led to inevitable speculation that a US network is set to buy the rights and make an American version.
At a screening of the first episode from the new series at the BFI Southbank in London last week, the show's writer and creator Howard Overman admitted it was "something I can't really talk about".
Host Jonathan Ross, a committed Misfits fan, pressed Overman for more details, leading him to confirm "there's been a lot of interest in it".
"But you just have to make sure it's done in the right way," he continued.
"The idea was always to do a very British take on the superhero genre. Would that translate back to America? I don't know."
However, even the merest suggestion of a US makeover has got fans talking.
But Stewart-Jarrett, who plays a former athlete with the power to rewind time, says he does not know how it would be achieved.
"Their whole system is different," says the actor, who plays Curtis in the E4 programme.
"I don't even know if they have kids that do community service so I don't know if that translates
"But I think this could just work as it is in the States," he continues. "We've apparently got secret fans."
Thomas agrees that, while the British version could generate its own fan base in the US, a remake might not work on the same level.
"Howard's point is it is a British take on an American kind of thing," she says. "So to then try and flip it, I don't know."
"But in saying that, The Office worked," interrupts Stewart-Jarrett.
"That humour is integrally British and they've taken that and it's been hugely successful, so who knows?"
According to Radio Times TV critic Jack Seale, however, crossing the Atlantic can be a tricky business.
"When you remake a show, all you're buying is the concept and the pitch and possibly some of the characters," he says.
"But the main thing you're buying is the basic idea.
"Misfits may well succeed there because it is a good idea. It's a different spin on an existing genre.
"Although it does have a lot of British elements, the idea of having reluctant superheroes who are not redeemed by getting their powers is a good one."
Yet for every Office, there is a Life on Mars, or a Coupling, or a Spaced.
Life on Mars, which gave the UK the irrepressible DCI Gene Hunt, starred the eminently respectable Harvey Keitel in the American remake. Yet it flopped.
Cult slacker hit Spaced, meanwhile, gave the UK the combined comedy talents of Simon Pegg, Jessica Hynes, Nick Frost and director Edgar Wright.
Yet such was the volume of vitriol directed at the attempted US remake that the British cast (who were not involved at any level) wince whenever it is brought up.
"The reason a lot of remakes flopped in the States isn't because the ideas didn't translate," Seale continues.
"Iit's because the script they ended up with wasn't that good."
Skins, considered one of the foremost young British dramas of the past five years, has been remade for a US audience and will air in January.
It follows a watered-down version of the UK show that was shown on BBC America with some of the more graphic sex, drugs and nudity removed.
The US remake, actually shot in Canada, features similar characters.
After the first episode, however, it will feature a different set of storylines.
Long-running comedy drama Shameless has also been remade by the Showtime network, with William H Macy taking the role of family patriarch Frank.
But will his brood of ivory-toothed Hollywood kids fill the shoes of their well-cast British counterparts?
TV critic Seale is doubtful. "One of the joys about Shameless was it didn't cast any big star names, which made it all the more believable," he says. "It made the actors into stars.
"Casting a big star name like William H Macy looks like a strange way of trying to replicate that."
The second series of Misfits begins on E4 on 11 November at 2200 GMT.
Related Internet Links
The BBC is not responsible for the content of external sites.