Michael Jackson children remember 'normal' father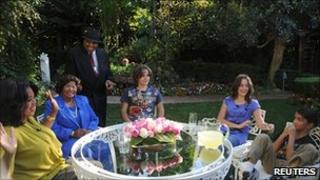 Michael Jackson's eldest children - Prince Michael, 13, and Paris, 12 - have spoken about their "normal dad" in a rare TV interview with Oprah Winfrey.
"I kind of felt like no-one understood what a good father he was," Paris said. Prince Michael reminisced about walking on the beach in Bahrain with Jackson.
Jackson's mother, Katherine, speaking at their Los Angeles home, said the singer was addicted to plastic surgery.
She said his nose became so small it looked "like a toothpick".
Paris, who said her father was "the best cook ever", told Winfrey he was "just a normal dad except for he was, like, the best dad ever".
She said the veils their father made them wear in public were uncomfortable but that they wore them "because then when we did go out without our dad nobody would really recognise us".
She said she wanted to be an actress adding: "I sometimes do improv. I used to do it with my dad."
Prince said he wanted to produce and direct movies.
The children were filmed with their grandmother and guardian, Katherine, and her husband Joe in the back yard of the Jackson home.
Katherine said Jackson's "shy" youngest child Prince Michael II, eight - also known as Blanket - was educated at home but was looking forward to going to school next year.
She said the three children spoke a lot about their father, who died in June 2009.
"Paris, she's very emotional," she said.
"She talks about him all the time and she's a strong one - all the pictures on her wall in her bedroom are Michael."
She said she had tried to stop what she described as her son's addiction to painkillers and plastic surgery.
Speaking about plastic surgery, she said she had told him: "'That's enough, why do you keep going?"
Joe Jackson, meanwhile, admitted that he had whipped his sons with a strap to try to instil discipline.
In a 1993 interview, Michael Jackson told Winfrey his father had beaten him.
Jackson's personal doctor, Dr Conrad Murray, has been charged with involuntary manslaughter and is awaiting trial.
He has admitted giving Jackson what was, ultimately, a fatal dose of the powerful anaesthetic Propofol to try to help the singer to sleep.