Chrissie Hynde's peculiar love affair
By Elizabeth Alker
Music reporter, BBC 6 Music News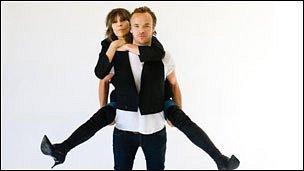 "I found my perfect lover, but he's only half my age," sings Pretenders star Chrissie Hynde on her new album.
She is referring to Welsh singer-songwriter JP Jones, her current recording partner, who is 31 years old to Hynde's 59.
The couple met at a party in 2008 and travelled to Cuba together on a whim. There, they wrote a collection of songs that charted the course of their ill-fated May to December affair.
Fresh from a tour of America with their band, The Fairground Boys, the duo - who are no longer romantically involved - told BBC 6 Music News about their peculiar year.
How did this project come about?
JP Jones: We met at a party in Islington in London. I was a big fan [of The Pretenders] and we ended up chatting all night and swapping numbers. I texted Chrissie, "all the fairground luck for your show tonight," and she said, "you should write a song called that".
Chrissie Hynde: I just have my own personal love of fairgrounds. I always have done and when I heard JP had been brought up working on his dad's fairground arcade in Wales, I just said "take my number". Then he wrote this song for me called Fairground Luck. It was a really unusual sounding song and I loved his voice. He wrote it overnight and sent it to me - and that's what really grabbed my attention.
The album tells the story of your own love affair. Why did you make that the main subject matter?
Chrissie Hynde: It's possibly a little too personal and graphic but as songwriters you express whatever has been inspiring or bothering you on the day that you are writing the song. What was bothering us is that I'm too old for him and we walked around Cuba and thought, we get on so well that if I'd been 28-years-old we might have got married in Cuba and started a life together. But, that just wasn't ever going to happen so we put it into these songs.
The honesty in this record is really striking...
Chrissie Hynde: Any time you make a record, it is personal. When you write, strangers are going to hear it so that's something that every new songwriter has to face. This one has been a really odd-ball thing because it took a lot of courage. We haven't edited it. It's maybe a little too graphic.
We're on a mission here. I have often been accused of being a pioneer simply because I'm a woman, but I'm not a pioneer. I've only ever done very traditional things. However, with this project, we feel like we're pioneering something because the industry has collapsed so irretrievably and we're starting out as a new small band. We're doing it ourselves and we're struggling really but it feels good. We're nothing about all this sugary pop and hit making machines.
Why did you decide to make the album in Cuba?
Chrissie Hynde: I was burnt out from touring. I didn't know JP that well. Just on a whim I said, "do you fancy going to Cuba?". He took a guitar with him and we just ended up writing these conversations down. We didn't write them intending to make an album, they were songs we were writing to each other, about each other, and for each other.
How did Cuba inspire the album?
Chrissie Hynde: It is beautiful and we were isolated, so we were writing on scraps of paper and napkins sat out at the beach and in restaurants. There's a kind of magic in being out there and seeing all those pictures of Fidel, hence the title Fidelity!
How is this collaboration different to previous collaborations?
Chrissie Hynde: I have been in the game a long time and I've sung with some of my favourite people - including Iggy Pop and Emmylou Harris. This is different because we are writing together and we're writing songs for us both to sing. When I have collaborated in the past, I have written songs for me to sing. It's quite unique. I don't see anyone else doing what we're doing. It's certainly nothing like anything I've done before or will do again.
It is almost as though the audience of record buyers, if there are any left, are listening to a private conversation between us.
What did you learn from each other as songwriters?
JP Jones: I have spent so much time in my musical career trying to write hits that suit radio. My band was bigged up to be the next big thing and then they were dropped. I learnt from Chrissie that you have to be honest with yourself.
Chrissie Hynde: All I've done is point out that you need to be yourself and that's rock and roll. JP is a crowd pleaser. He loves people, he's really good with people and I'm completely the opposite. No-one could call me a crowd pleaser. I've certainly learnt to be nicer and not so reclusive.
JP Jones: Yes, and I got darker!
Chrissie Hynde: Hanging out with me for two years would destroy anyone's optimism!
Fidelity! is out now on Rocket Science. A single, If You Let Me, is out on Nov 15
Related Internet Links
The BBC is not responsible for the content of external sites.