Lesley Manville on why she is Mike Leigh's leading lady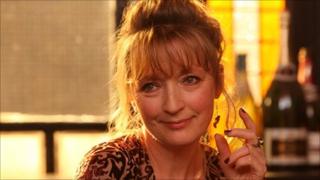 It could have all been so different for actress Lesley Manville.
While at stage school in the 1970s, her dance teacher Arlene Phillips offered her a place in a raunchy dance troupe she was putting together - called Hot Gossip.
Manville turned it down. "I was a good girl!" she laughs. "The whole notion of doing something a bit risque like that was not really how I saw myself."
The decision does not appear to have done Manville's career any harm. This week she is back in cinemas in Mike Leigh's new film, Another Year.
Manville is Mike Leigh's most frequent collaborator, having worked with the director on Secrets and Lies, High Hopes, Topsy-Turvy, All or Nothing, Vera Drake, the BBC film Grown-Ups and in radio and theatre.
In Another Year, Manville is Mary - a middle-aged woman on a downward spiral of loneliness who seeks solace in drink and the company of her happily-married friends Tom and Gerri (Jim Broadbent and Ruth Sheen).
Another Year has been a film festival hit in Cannes, Toronto and London, and sees Leigh back with his regular family of actors, including Imelda Staunton and Peter Wight.
As is the way on Mike Leigh films, there was no script to start with. The characters were built from scratch by actors and director.
"People get a bit surprised when you say you do start with nothing, but that's the truth," says Manville.
"We work together and create a character from the beginning of their life. We created Mary's childhood, which wasn't particularly happy, where she went to school, the whole thing.
"We have a few months to do that. The character slowly starts to get under your skin. You end up with a character you can put in any situation and you know how they're going to behave."
How much of a turning point was working with Mike Leigh?
"Oh, massive, it can't be underestimated how it changed everything for me. Up until that point, I worked a lot as a young girl and a teenager, but I didn't really have any direction.
"I never played anybody that wasn't me. That was the great thing - when we met, he showed me I could play all these characters that were really not like me at all.
'Vibrant women'
"We do work really well together and have an inherent understanding. There are some people in your artistic life that you have this link with, and you bring out the best in each other."
Manville's other screen credits include Robert Zemeckis's A Christmas Carol and the yet-to-be released Womb, alongside Doctor Who actor Matt Smith and former Bond girl Eva Green.
On stage she appeared in the original production of Les Liaisons Dangereuses, as well as revivals of Edward Bond's Saved and The Pope's Wedding.
Her work at the National Theatre includes His Dark Materials, Pillars Of The Community and The Alchemist. And she was recently at the Old Vic in All About My Mother and Six Degrees of Separation.
Do characters as strong as Mary turn up in the scripts that land on Manville's desk?
"You tend not to see such interesting characters on television, and most of my film experience has been with Mike," she says.
"In the theatre I've played some great characters - in Ibsen's Pillars of the Community I played a wonderful character - a very vibrant woman ahead of her time. But I don't have a list of characters I want to play. I never think like that."
On the subject of Hot Gossip, Manville suggests another way she might get to dance on TV.
"I'd have loved to have done Hot Gossip, but one of the reasons I didn't was the whole thing with the stockings and suspenders. A bit of me thought 'I can't do that - my dad will be so embarrassed - I can't go on television dressed like that!'"
She pauses, and adds: "I should really do Strictly, shouldn't I? I wouldn't mind dancing for three months every day. I just wouldn't like the whole filming bit."
Another Year is released across the UK on 5 November.