Robert Llewellyn puts chat show on wheels
By Tim Masters
Entertainment correspondent, BBC News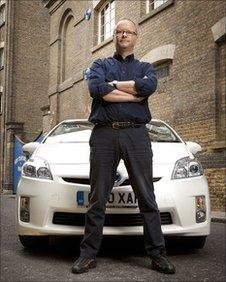 Robert Llewellyn is gearing up for a new career as a TV chat show host in his new car-based interview show, Carpool.
But he almost ended up in the hot seat himself this summer - when he got pulled over by the anti-terrorist squad.
With his car rigged up with mini-cameras and microphones, Llewellyn was on a test trip with his producer when events took an unexpected turn.
"We were just driving round the block, but the block happened to go past MI6," recalls Llewellyn, star of TV shows Red Dwarf and Scrapheap Challenge.
"So there we were in a white car, with blacked-out windows and a big camera thing strapped on the side that could look like a gun, and - what a surprise - we got pulled over by the anti-terror police. They were armed to the teeth.
"I was actually quite scared. I thought they might say this is illegal. I got out of the car and the one advantage of Scrapheap Challenge is that more or less every policeman has watched it. And so he said: 'Oh it's you - carry on.' I didn't even have to say anything."
Llewellyn's Carpool started life on the internet in early 2009. In the show, Llewellyn gives lifts to celebrities like Stephen Fry and Patrick Stewart, interviews them, and then puts the results online.
The web series was an instant hit, and this week Carpool makes the leap to TV's Dave channel.
"I'm excited to see how it's received," says Llewellyn, "because it's not a total unknown, but it's totally unknown in this way."
Is he anxious that fans of the web series will complain it's not the same?
"The actual format hasn't changed at all. It's just produced in a much better standard. The sound and the pictures are much better than when I did them - when they were slightly sideways and out of focus."
Despite its "home-made" feel (a handful of episodes had to be scrapped due to technical glitches), Carpool quickly amassed thousands of fans.
"It was a fluke," recalls Llewellyn. "I don't know how the very first one got seen. It was with Ed Bye, the director of Red Dwarf. I hadn't announced it to anyone. I just put it on iTunes, went away for the weekend, came back and just over 4,700 people had downloaded it."
Next up in the Carpool hotseat was Jonathan Ross. Other guests have included Ruby Wax, Professor Brian Cox, film director Duncan Jones and internet entrepreneur Martha Lane Fox. The Patrick Stewart interview has been downloaded more than 100,000 times.
Guests on the TV series include Jason Manford, Rufus Hound, Rob Brydon, Chris Addison, Ross Noble and Tim Minchin.
There will also be return visits from Paul Daniels, Jo Brand, Craig Charles and David Baddiel, who all took part in the original web shows.
"I did 76 episodes on my own, which was bonkers," says Llewellyn, who doesn't prepare a list of questions for his interviews, but lets the conversation flow naturally.
Most of Llewellyn's friends and colleagues from Red Dwarf have appeared on Carpool. Is there anyone from the show he hasn't interviewed yet?
"I've never done Norman Lovett," says Llewellyn, referring to the actor who played computer Holly in the early years of the sci-fi sitcom. "I've got to do Norman at some point."
A new series of Red Dwarf is "on the cards," he says. "The cast are all up for doing it."
Has Llewellyn considered doing Carpool in character as the rubber-headed robot Kryten?
He admits: "I did start to drive like that from Shepperton Studios to Richmond to film a scene but it was really difficult. I drove about three miles and got out."
Safety on a car-focused show like Carpool is, of course, paramount. "I do drive extremely carefully. I never get near the speed limit. We've never had a prang."
At which point Llewellyn leans forward and touches the wooden table in front of us, just to be sure.
Carpool begins on at 2030 on Thursday 4 November on Dave.
Related Internet Links
The BBC is not responsible for the content of external sites.