Where are the great new guitar bands?
By Ian Youngs
Entertainment reporter, BBC News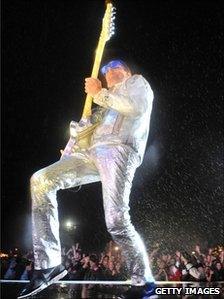 From The Beatles to the Arctic Monkeys, Britain's great rock bands have belted out the soundtracks to our lives and carved a place at the heart of our culture.
So why have so few new bands broken through in the past couple of years? And what are new acts doing to keep guitar music alive?
There is a theory that says, almost 60 years since the birth of rock 'n' roll, all the great guitar riffs have been played to death.
All the great anthems have been written, every sound has been wrung from the instrument and every possible band line-up and look have been worn out.
In other words, it has all been done a million times before.
A glance at the singles charts, where rock and indie bands are an endangered species, makes that a persuasive notion.
Killers frontman Brandon Flowers and The Kings of Leon are the only such acts to have cracked the top 10 so far this year.
Two years ago, more than a dozen guitar-wielding bands - including Coldplay, Oasis, Razorlight, Kaiser Chiefs and The Kooks - reached the same heights.
But then the world seemed to get bored with the conventional guitar sound and the term "landfill indie" was enthusiastically wielded to beat down bands that sounded safe and stale - The Pigeon Detectives, The Fratellis, The Enemy, The View, Editors and The Courteeners among them.
This year, bands like Muse and Kings of Leon, with large fanbases built over long careers, have remained huge.
Mumford and Sons are the most successful new band of 2010 and The xx won the Mercury Music Prize. Both have had great years, partly because they have broken the conventional indie stereotype.
There are still thousands of aspiring guitar bands under the radar - but it does not feel like many are threatening to grab the public's attention.
The disillusionment can be traced back to record labels chasing quick hits rather than acts with longevity, according to BBC 6 Music DJ Steve Lamacq.
"In this current climate, people are signing bands who have got one or two good tracks, hoping they can make one good album," he says. "And inevitably a lot of these bands are going to come and go.
"You end up ruining the sense of trust between tastemaker and audience, or record label and audience, or even musical genre and audience.
"If you stop believing in a certain sort of music, it's going to take a lot for you to come back."
Lamacq is 6 Music's arbiter-in-chief of good new guitar music, and has been casting a critical ear over new bands since hosting Radio 1's Evening Session in the heady days of Britpop.
If Radiohead emerged with their debut album today, it would be "unthinkable" that their long-term prospects would be recognised, he believes.
"It's the short term-ism coming home to roost, and that's a problem for the music industry and the media. But it's a problem that they've created for themselves in a lot of cases."
Singer and songwriter Fran Barker cites Radiohead's second album The Bends as the record that "made me really want to pick up the guitar".
Her band Seerauber Jenny is "very much guitar-driven", she says, with an extra dimension added by bandmate Neil Claxton, who was behind dance act Mint Royale.
Artists cannot get away with simply playing traditional guitar music any more, Barker believes.
"People expect so much more from what they hear, and you've got access to so much more," she says.
"To be edgy you've got to try harder. You can't have a simple sound any more - it's got to be much more complex and instruments need to be used a lot more imaginatively."
A hospital heart monitor - used for beats instead of drums - is among the gadgets Seerauber Jenny have employed.
Many bands are going further in their quests for a fresh sound, taking them far away from their "landfill indie" cousins.
Manchester gig promoters Now Wave say they showcase "the sounds of the near future", seeking bands that are alternative, exciting and original.
Now Wave's Wesley Jones is "a little bit bored" with the standard indie formula. "I think the public are as well," he says.
He mentions Glasgow quartet Errors, who recently played a Now Wave night, as an antidote. "That's four guys with guitars in there - but also an array of other instruments," Mr Jones says.
"And it doesn't sound dissimilar to dance music. It's 120bpm, there are no vocals, there's no singing about having lost your girlfriend.
"But they're utilising guitars in a different way. Not strumming them. There are all sorts of different ways to play it."
Mount Kimbie, another forward-thinking bunch, play "post dubstep", Jones says, which would be "unrecognisable to most indie rock fans".
"And yet there's a guitar in there, both plucked and played with a violin bow. It is used more in a soundscape way, or played and then heavily processed through other instruments to give it a very different sound."
If you're a budding music-maker with home software to create and record all the sounds you need, who needs bandmates anyway?
Sean Adams, founder of the Drowned In Sound music website, says wryly: "If you're a solo artist, you can create your own drummer without having to deal with drummers.
"Because of the way you can now create stuff with Garageband or Logic, it seems really limited to just be making sounds with the guitar, when there's so much more you can do with a palette of sounds."
Mr Adams, who released the Kaiser Chiefs' first single, also believes fans find it unnatural to listen to something that is "attached to previous generations" on their ultra-modern devices.
So where will the sound of the near future really come from? Will one of the mega-hip, bleeding-edge experimentalists hit upon a formula that propels them into the big time?
Or will young fans get sick of the soon-to-be landfill R&B, hip-hop and dubstep, and look to something they have rarely heard before - four blokes (or girls) with guitars, bass and drums and a rebellious rallying cry that they can relate to?
"Maybe the guitar isn't as exciting and dangerous and vital as it once was," Mr Adams says. "Maybe that's going to come in a second wind with a backlash against all the dancier sounds and getting bored of seeing a guy on a laptop."
"I think the next big thing that will come along will be like an Oasis," Lamacq concludes. "It will sound like something you've heard before.
"And I don't think we'd mind - if they said something about your life. If they were engaging and charismatic. If, when you listen to their song, you want to listen to it again. You want something to believe in."
Very few new bands have been "touching people in that way" in the last 12 months, the DJ says.
"I can't really put my finger on why bands aren't forming like this - apart from they just want to take a short cut to success.
"Trying to be different now will be a struggle. But it will be the bands that are prepared to struggle that will take us out of this mess."
Related Internet Links
The BBC is not responsible for the content of external sites.