Writer Harry Mulisch dies at 83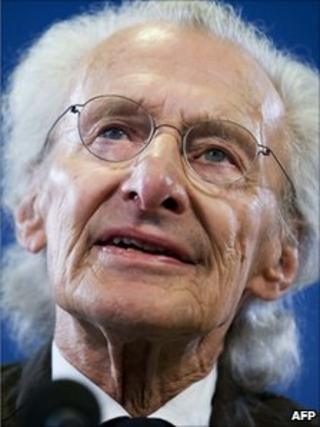 Dutch writer Harry Mulisch, author of The Assault (De Aanslag) and The Discovery of Heaven (De ontdekking van de Hemel), has died at the age of 83.
Mulisch, considered by many a candidate for the Nobel Prize for Literature, died of cancer at his Amsterdam home.
Prime Minister Mark Rutte called his death "a loss for Dutch literature and the Netherlands".
Mulisch wrote more than 30 works, several with a World War II theme.
The Discovery of Heaven (De ontdekking van de Hemel) was named Best Dutch Book Ever in 2007.
The jury was made up of Dutch newspaper readers.
Mulisch was born in Haarlem in the Netherlands. The Assault was his first major best-seller, set during World War II in the occupied Netherlands and looking at the ethical and political questions raised by the conflict.
The book was made into a film of the same name and won an Oscar and a Golden Globe for best foreign movie.
In the story of The Assault, innocent people are killed in retaliation for the death of a collaborator.
In real life, Mulisch's father had collaborated with the Germans.
The Discovery of Heaven was also made into a film in 2001 as The Discovery of Heaven by Jeroen Krabbé and starred Stephen Fry.
Other themes explored in Mulisch's work are the relationship between God and Man, and Greek mythology.
Among the awards Mulisch won for his work, the most important was the lifetime achievement award Prijs der Nederlandse Letteren (Prize of Dutch Literature) in 1995.