Take That reunion gigs sell out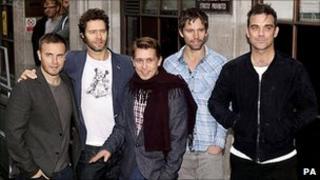 All tickets for Take That's Progress reunion tour of the UK and Ireland have now sold out, according to the agencies charged with their official sale.
Notices on the websites for Ticketmaster, Gigsandtours, Ticketline and the Ticketfactory all state they have no more tickets.
Calls to their hotline numbers also confirm this.
Most say they ran out on Saturday morning, despite an extra 10 dates being added due to huge demand.
The tickets went on sale at 0900 BST on Friday 29 October.
Official figures for the number of tickets sold in total and how long they took to go are yet to be confirmed. The group's promoters told BBC News on Sunday they did not know the full details yet, but the number sold on Friday alone was a UK record.
They were also unable to say if more UK dates would be added.
Tickets for the group's European gigs will go on sale on 5 November.
On Friday, many fans spent hours trying to access ticket websites and phone lines, which buckled under "unprecedented" demand. Take That's concert promoter had to apologise for the technical problems that prevented fans from buying tickets for one the most hotly anticipated reunions in pop history.
SJM Concerts managing director Simon Moran said a record one million tickets were sold in one day. "We coped with it in the best way possible," he said.
Ticket agency Ticketmaster also said sorry for the "frustrating delays".
Robbie Williams will rejoin his bandmates on the road for the first time in 16 years when they play at least 25 stadium shows.
The band said on Friday they were "speechless" and "truly and utterly shocked" at the speed of the sales.
More fans will watch the Progress Live tour than any other tour in UK and Irish history - beating the group's previous record set in 2009.
Mr Moran, who is responsible for staging the shows, told BBC News that the technical problems were "unfortunate".
"But it's due to the absolutely unprecedented and never-before-seen demand for these tickets to watch Take That," he said.
Although the official ticket agencies regularly updated their ticketing systems, they "didn't work today", he admitted.
"We did our best to ensure we used all of the major ticketing platforms," he said. "They're the market leaders. It's unfortunate but we have sold 950,000 tickets so people have bought them over the course of time."
The website for Ticketmaster, one of the ticket agencies selected, received 20 million page views on Friday.
That was "far in excess" of the number seen when tickets for Michael Jackson's planned comeback concerts at the O2 arena in London went on sale last spring, the company said.
Thousands of people also queued at venue box offices, while BT said the national phone network received between three and four times the normal number of calls on Friday morning.
'Very unfair'
Meanwhile, hundreds of tickets are for sale on eBay and other secondary websites at inflated prices.
Police have warned fans not to buy from unofficial agencies, which they said may not fulfil orders and may use personal details in identity theft.
Fans have written to the BBC to express their anger at the difficulties - and their disappointment at not having been able to secure any tickets at all.
"I spent an extremely frustrating and very disappointing eight hours in total trying to purchase Take That tickets by both telephone and on the internet all of which was to no avail, as all the major ticket sellers web sites constantly kept crashing and the phone lines were continuously engaged despite pressing the redial button repeatedly," said Sarah Williamson, West Yorkshire.
"I am most disheartened by the whole experience and found the whole process very unfair especially when the people who were actually able to purchase a ticket could potentially buy a maximum of eight tickets in total hence why you can now see tickets on e-bay being sold for hundreds of pounds. Not fair at all."
Sharon Singleton, from Lancashire, also wrote in: "Unfortunately I am one of the unlucky ones, did not manage to get tickets after trying for over 7 hours on internet and telephone, at one point nearly thought possible got as far as viewing the tickets I wanted and confirm the booking of 3 tickets only for the site to crash again. My son is very disappointed."