Take That fans crash ticket sites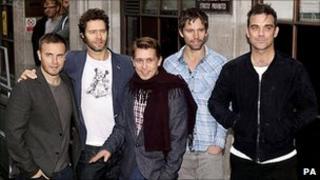 Take That fans have complained after facing major problems buying tickets to see Robbie Williams tour with the group for the first time in 16 years.
"Unprecedented demand" overwhelmed official ticket agencies, meaning many fans were to unable to access their websites or get through on the phone.
"Ticket buying is a nightmare!" one fan named Louise wrote to the BBC.
"You would think there would be something in place to prevent the nightmare of crashing sites."
The websites of official agencies including Ticketmaster, See Tickets, Ticketline and The Ticket Factory all buckled under the strain as the tickets went on sale at 0900 BST.
Ticketmaster said the demand was at least double that seen when tickets for Michael Jackson's planned comeback concerts at the O2 arena in London went on sale last spring.
Hundreds of fans have also been queuing at venue box offices, while BT said the national phone network had received between three and four times the normal number of calls.
A Take That spokesperson urged fans to be patient.
"Massive demand this morning has caused phone lines and websites to jam as ticket agents have struggled to cope with the number of people trying to buy Take That tickets," a statement from the band said.
"However all ticket agents are confident they will be able to process all enquiries so are asking fans to keep trying."
The group have announced dates in Sunderland, Manchester, Cardiff, Dublin, Glasgow, Birmingham and London in May, June and July. They will also take the show across Europe.
Meanwhile, hundreds of tickets appeared on eBay and other secondary websites at inflated prices.
Police have warned fans not to buy from unofficial agencies, whom they said may not fulfil orders and may use personal details in identity theft.
Nik from Ipswich, another fan who contacted the BBC, said: "It is very frustrating as you don't know if all the tickets have gone or not.
"I don't really understand why the sites can't have more bandwidth or servers at times like this."
Iggy in Barrowford, Lancashire, said: "It is madness in this day and age that the ticket companies cannot gear up for days like today.
"As for the tickets already appearing on resale sites, how is this fair to the genuine fans?"
Another fan, Lucy, in Cardiff said: "I have been using two phones and a computer.
"Really annoyed that at just gone nine this morning there are people selling bundles of tickets on eBay for three times more that the ticket cost, sometimes more than that."
Problems 'addressed'
The official agencies are Gigs and Tours, The Ticket Factory, Ticketline and Ticketmaster.
Gigs In Scotland is selling tickets for Hampden Park in Glasgow, Event Travel is offering hotel packages and Mark Butler is selling VIP tickets.
A Ticketmaster statement said it had "addressed" the problems.
An earlier message from the company said: "Due to totally unprecedented demand all ticket agents across the UK, including Ticketmaster, are struggling to cope with the sheer volume of people logging on to try and buy Take That tickets."
A statement from The Ticket Factory said it had been "the busiest release that we have ever experienced" but that many customers had got through, exceeding the company's previous sales record by more than 50%.
The band's last UK tour - without Williams - was seen by a record-breaking one million people in 2009.
Williams rejoined the group this summer. Their new album, Progress, will be released next month.