Brett Anderson on Suede's future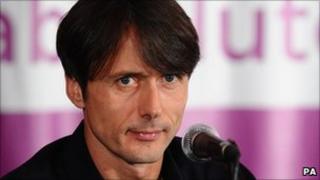 When Suede, one of the defining bands of the Britpop era, split up in 2003 it would have been hard to predict they would return so triumphantly in 2010.
Their big reunion gig was at a Teenage Cancer Trust concert at the Royal Albert Hall in March, and now Suede are releasing a Best Of... album and are about to embark on a European tour.
The group shot to fame in the early 1990s around the same time as Oasis and Blur. They had a string of hit singles including Metal Mickey, Animal Nitrate and Trash.
Original guitarist, Bernard Butler, quit under acrimonious circumstances in 1994 during the recording of second album Dog Man Star.
He was replaced by a then 17-year-old Richard Oakes, and Suede went on to produce another three albums, which spawned hits including She's in Fashion and Electricity.
The band split after the 2002 album A New Morning.
Frontman Brett Anderson worked with ex-bandmate Butler as The Tears, and has released three solo albums.
With the post-Butler line-up back together in 2010, here - speaking at last week's Q Awards - Anderson explains that the band's future is still uncertain.
Why did you reform earlier this year?
We got an offer from the Teenage Cancer Trust and we thought it sounded like a good idea. It was quite spontaneous. The show at the Albert Hall was probably my favourite show we've ever done in 20 years.
Why was that?
I think experience has a lot to do with it. We know how to play now, having all those songs, five albums' worth of songs to choose from. It was a fantastic show.
How hard was it to choose which tracks to include on the Best Of?
Really hard. The Best Of could have been six CDs. It ended up a double CD. It was really hard choosing songs and throwing songs out. I tried to be really objective about it and not choose anything for any political reason - just choose exactly what I thought represented the best of the band, because it's our legacy.
What are your favourite tracks?
There's a song called Pantomime Horse which is I think is quite special, plus lots of songs on CD 2 like Asphalt World and Still Life and This Hollywood Life - all of the slightly more obscure ones.
Will Suede go back into the studio?
We haven't got a big plan sorted out. We're doing it quite spontaneously and our mantra is: 'We'll carry on doing it until it stops being special'.
I'm very proud of the work we put in over the years and I've got a good relationship with everyone in the band. You get to a certain age and you can't hold grudges and you've got to stop acting like a kid. It's nice to be with these guys.
So is reforming permanent?
It's temporarily permanent.
We've got a show at the 02 in December and we don't have anything else booked after that. We're going to see how we feel about it. I don't thank any one of us wants to do this unless it feels really special.
I don't have some secret agenda written down. It just has to feel right.
Any new rules this time round?
No in-jokes! When you're in a band touring for years and years you just talk in code to each other. So we said "no in-jokes", but that lasted about five minutes.
Suede's The Best Of... is released on 1 November. Suede play London's 02 Arena on 7 December.