Director Anton Corbijn on working with George Clooney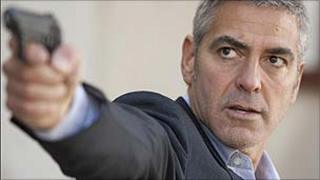 When you shoot a film starring George Clooney in Italy, the country that originally coined the word paparazzi, it is only wise to expect photographers to track your every move.
That was certainly the experience of Dutch-born film-maker Anton Corbijn, best known for his award-winning 2007 biopic Control.
Shot in black and white, it told the story of how British pop icon Ian Curtis shot to fame with Joy Division before tragically taking his own life at the age of 23.
More lives are lost in Corbijn's follow-up project The American, though this time it is Clooney who does the killing in his role as a professional assassin hiding out in Italy.
Based on a novel by late English author Martin Booth, the film sees the taciturn Jack contemplate a change of career as he is befriended by an elderly priest and a local prostitute.
'Upsetting'
When he is asked to build a rifle for a female sharp-shooter, he finds himself inexorably drawn back into a world of suspicion and danger.
Former photographer Corbijn could have used a sniper himself to pick off the snappers who stalked his leading man as they worked in the mountainous region of Abruzzo last year.
"It didn't bother me during the shooting as they were very far away, hiding in trees," he says.
"But for George, maybe it was upsetting that there were pictures of him in the papers every single day in Italy."
But this paled in comparison to the earthquake that rocked the area in April 2009, a disaster that forced Corbijn to seek out alternative locations.
"Funnily enough the quake happened on the day I met George for the first time in America," the 55-year-old remembers.
"I woke up in America, saw the earthquake on TV and thought, 'this film's not going to happen'."
Some stability had returned to the area by the time filming began in September, enabling the production to shoot close to where Corbijn had originally intended.
"The people there were incredibly grateful to us for sticking to the region," he said. "That's what they really need, people investing money."
'Different genre'
Having made his name as a director with Control, Corbijn was keen to ensure its successor would be "a very different experience".
"I'm so new to film-making I need to learn now from every film," he continues. "There's a lot of things I wanted to change.
"I wanted to work with European and American actors, on a studio film in a different genre."
What genre is that exactly? The director describes the piece as "a suspense thriller with the frame of a western".
One thing it definitely is not, though, is an action movie - something The American was marketed as when it was released in America in September.
"The trailer made it look like an action film," he sighs. "I don't want anyone to think it's an action film, because it really isn't."
Enough people were fooled to propel The American to the top of the US box office chart, albeit only for one week at a traditionally fallow period in the country's cinematic calendar.
Those figures led some to regard the film as a financial disappointment, despite it doing better than its competitors in its opening weekend.
But Corbijn has better things to do than ponder the paradox.
"If the film is the film you wanted to make, that's a success," he says.
"I've never made work that appealed to mass audiences," he continues. "I've never set that out as a goal.
"My goal is to make three films - I've made two now - and then decide if I can be called a director or not."
The American opens in the UK on 26 November.