Glee beats Beatles singles record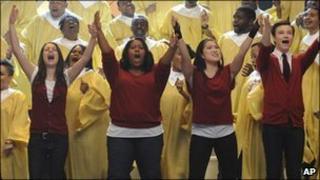 The cast of US TV show Glee have beaten The Beatles' record for the most appearances in the Billboard Hot 100 singles chart by a non-solo act.
Six new entries this week brings their total to 75 chart entries, compared with The Beatles' 71.
Only Elvis Presley (108) and James Brown (91) have scored more US hits.
Glee - the story of a high school choir of misfits - has shifted 2.8m albums and 11.5m downloads, music sales tracker Nielsen SoundScan said.
The cast of Glee have also overtaken Ray Charles (74) and Aretha Franklin (73).
Songs from the TV show are released digitally after each episode is broadcast.
Five covers of Britney Spears songs debuted in the latest chart after last week's show. Amongst them was a version of the singer's UK number one Toxic, which landed at 16, making it the show's highest new entry to date.
That track sold 109,000 downloads in its first week of release.
The Beatles' 71 hits were in the charts between 1964 and 1996, while Glee's first entry came in June 2009.
However, only 14 of Glee's Hot 100 hits have stayed in the chart for more than one week - giving them a cumulative total of 105 weeks on the countdown.
By contrast, the fab four have a tally of 617 weeks in the chart.
For nine weeks between February and April 1964, they continuously held the top two positions and, on one of those weeks (4-10 April, 1964), they occupied the entire top five - the only act in chart history ever to do so.
In the UK, where Glee is broadcast on E4, the cast have scored 16 entries in the top 40 this year, including a cover of Journey's Don't Stop Believin', which peaked at number two in January.