Sam Neill criticises New Zealand over The Hobbit row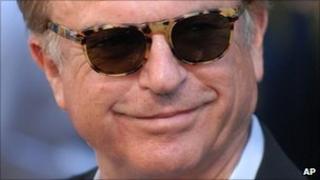 Jurassic Park actor Sam Neill has criticised New Zealand's government for getting involved in an ongoing row over The Hobbit.
Production on Peter Jackson's movie is in jeopardy after unions urged actors to boycott the films over pay.
On Monday, prime minister John Key said the government was holding discussions with the key parties.
But Neill told a local newspaper: "The last thing we need here is for the situation to be politicised."
In September, Jackson warned that if the dispute continued then the two-film Lord of the Rings prequel could be filmed outside his home country.
In an open letter he said the wrangle was a "grab for power" and an attempt by Australian "bully-boy" acting unions to exert influence over New Zealand's film industry.
Earlier this week, Mr Key said he would be "greatly concerned" if the film left New Zealand.
Neill, a New Zealand native, who has also starred in The Piano, told the Otago Daily Times: "Unless they wish to calm the situation or indeed mediate, our politicians should absolutely be quiet.
The star made an appeal for calm, and said the situation should be resolved amicably.
"I am dismayed to read how serious and how unnecessarily charged this dispute has become over the last few days," he said.
"We are seeing too much anger and hysteria all round and it doesn't help to have lots of people yelling from the sideline.
"This is not hard. Shaking hands and a cup of tea should do it."
It is thought Economic Development Minister Gerry Brownlee and Arts and Culture Minister Chris Finlayson met Jackson earlier this week.
The director won 17 Oscars for his Lord of the Rings trilogy, which was largely filmed in New Zealand.
He is producing The Hobbit, also based on a novel by JRR Tolkien, and is widely expected to step up as director after Guillermo Del Toro left the project.
The two-part movie has yet to be given the go-ahead by Hollywood studios, but the Los Angeles Times has reported that a deal could be close to being sealed.