Sir Norman Wisdom called 'comic genius' in tributes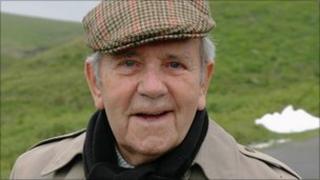 Long-time friends and colleagues of Sir Norman Wisdom have paid tribute to the late actor, who has died aged 95.
The star, who began his film career in 1948, wore his trademark cloth cap and ill-fitting suit in more than 20 movies.
Lyricist Sir Tim Rice called him "a brilliant slapstick performer in the Charlie Chaplin mould."
Actor and TV presenter Nicholas Parsons remembered him being "sweet and lovely to everybody".
"He had this amazing ability just to be so natural and giving," he added.
Sir Tim worked with Sir Norman on the single Big in Albania, which was used for comedian Tony Hawks' book One Hit Wonderland.
"He was well into his 80s and he was playing the clown and a very funny clown almost all the time," he said.
"He would run up escalators the wrong way, he would fall down stairs, crack jokes and at almost every meal burst into Don't Laugh at Me 'Cos I'm a Fool, his big hit from the '50s.
"He was supremely professional and he was extremely good at what he did."
Sir Norman became a cult figure in Albania, where his were the only films from the West allowed in the former communist state.
Albanian Ambassador Zef Mazi said news of Sir Norman's death was dominating the news channels in his native country.
"After Charlie Chaplin, he was the biggest comedy star in Albania. I still remember his character Pitkin and his boss Mr Grimsdale," he said.
"He was very popular with everyone from very young people to very old people and he made us laugh at a time, in the communist period, when there were not many reasons to laugh."
Head of BBC Comedy Mark Freeland paid tribute to Sir Norman on behalf of the corporation, calling him "one of the most enduring and endearing faces of British comedy.
Mr Freeland praised "a remarkable career that spanned seven decades, 32 sitcoms and 19 films, his trademark slapstick, that harked back to the era of silent movies and was admired by Charlie Chaplin himself.
"Sir Norman's diminutive characters were always underpinned by a sensitivity and charm that so wonderfully communicated to audiences the plight of the underdog."
Johnny Mans, Sir Norman's agent for more than 30 years, said his death was "absolutely devastating".
He added: "He was a friend as well as someone who I have worked with over the years," he told Sky News.
"He was never, ever big-headed. He was always a man of the people. He was always a naughty little boy, but that was Norman."
Jan Kennedy, from Billy Marsh Associates - the agency which discovered Sir Norman in the early 1950s - called him "simply a beloved comic genius."
She added: "His whole personality projected a childlike warmth and innocent appeal that touched the hearts of everyone.
"Norman literally made audiences worldwide cry with laughter, and his endearing talents live on through the universal happiness of his films and recordings."
Chief minister Tony Brown from the Isle Of Man, where Sir Norman lived for many years, said he was "deeply saddened" to have heard of his death.
"We were very fortunate indeed that Sir Norman chose to make the Isle of Man his home. He was a wonderful asset to the local community and made a tremendous contribution to countless Island charities and good causes," he said.
The comedy actor died at a nursing home on the Isle of Man on Monday evening, having suffered a series of strokes over the past six months.
A statement said: "Sir Norman Wisdom has today passed away at Abbotswood Nursing Home on the Isle of Man.
"Over the last six months, Norman has sustained a series of strokes causing a general decline in both his physical and mental health.