How slapstick stayed the course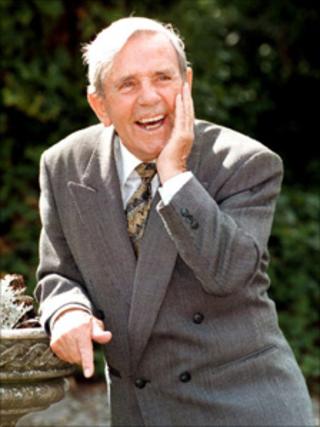 The death of Norman Wisdom has brought the art of physical comedy back into the spotlight.
Despite the huge success of slapstick routines from the likes of Jim Carrey, with his exaggerated facial contortions, and Rowan Atkinson as the hapless Mr Bean, physical comedy has carried a somewhat unfashionable tag in recent years.
But that hasn't stopped it being universally popular - Wisdom had a huge following in Albania and the original Mr Bean series was sold to over 200 territories.
So what is it that makes it a hit with people across the globe?
There is, of course, the most obvious answer, which is that there is no language barrier with physical comedy. You don't have to speak the lingo to laugh when you see footage of someone halfway round the world getting smacked in the face with a rake.
But the Evening Standard's comedy critic, Bruce Dessau, believes there is more to it than that.
"It connects us all to our inner child, we like comedy to be innocent," he says.
But he admits it's hard to put your finger on exactly why it makes people laugh.
Guilty pleasure
"It connects to something deep inside us," he suggests, "although we feel guilty if we laugh at seeing someone slip on a banana skin."
However, when John Cleese knocks Michael Palin into a canal with a halibut - as in Monty Python's fish slapping sketch - we are given permission to laugh without feeling heartless.
"You don't feel guilty about laughing as no-one's been hurt by it," he says.
Dessau also points to the rise of Youtube, where you can find plenty of clips of people falling over to click through at your leisure. And of course there are long-running TV shows such as You've Been Framed.
Actor, writer and comedian, David Schneider starred in popular comedy shows The Day Today, Knowing Me, Knowing You and I'm Alan Partridge.
But he began his career, while at university, performing a physical comedy act.
"Our most obvious comedy instinct is physical," he says.
"The top 100 comedy moments are physical. For example, Ricky Gervais's dance in The Office or Del Boy falling over in Only Fools and Horses."
He concurs that the comic form has not been fashionable in recent years.
"Verbal, realistic comedy was incredibly dominant a few years ago - such as Alan Partridge and The Day Today. But whether it's in vogue or not, a brilliant piece of physical comedy always punches through."
He says the Little Britain series made it ok to be "stupid" again.
'Not cool'
"There is a prejudice that physical comedy is stupid but if executed brilliantly, it's acceptable.
"If done badly it looks much worse than if verbal comedy goes wrong, whereas slightly bad verbal comedy you tolerate and then you move on to the next joke. So I think that's why it has suffered," he says.
Dessau agrees.
"Physical comedy has never been the cool part of comedy, so it kind of gets looked down upon a bit. But it's massively popular and it's timeless.
"Norman Wisdom did date a bit, but Laurel and Hardy has become classic comedy. It's never going to be fashionable but it's always going to be hilarious."