Author Jonathan Franzen's glasses held to ransom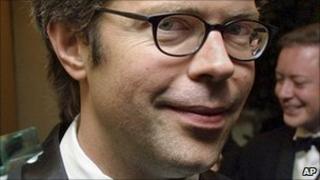 A man was arrested after stealing author Jonathan Franzen's glasses from the writer and demanding a ransom of £100,000 ($158,808) at a book launch.
Police said a helicopter was called to chase the culprit, who jumped into the Serpentine lake in London.
The 27-year-old has since been released with no further action being taken and the glasses have been recovered.
Last week, thousands of copies of Franzen's latest novel, Freedom, were recalled because of a printing error.
Publishers HarperCollins said "minor corrections" failed to make it into the text of the UK edition.
'Shocked'
Readers can now exchange misprinted copies for a final version.
Graeme Neill, news editor of trade magazine The Bookseller, was at the book launch when the glasses were snatched.
"It was frankly quite bizarre," he said. "Considering the seriousness of Franzen's work, this is the last thing anyone expected at his book launch."
Mr Neill said Franzen seemed "shocked" afterwards because it was "such an unexpected thing to happen".
He added: "It has been an increasingly bizarre week for him, what with last week and the printing errors, he's probably wondering 'what next?'"
Mr Neill said he thought two men had approached Franzen, pretending they worked for another publishing house.
He said one of them handed Franzen a ransom note and the other ran off and was apparently later found hiding beside a bush.
A police spokesperson said: "During this incident the suspect entered a body of water in Hyde Park.
"As a matter of course, and in order to safeguard the wellbeing of the man, a helicopter was used to locate him."