Author JK Rowling hints at more Harry Potter books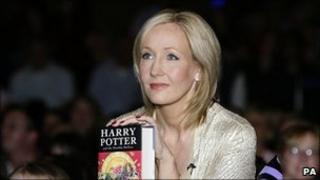 Author JK Rowling has revealed she could write more books in the Harry Potter series.
Rowling told US chat show host Oprah Winfrey that the characters were still in her head and she "could definitely" write several new books about them.
"I'm not going to say I won't," she said in an interview conducted in Scotland.
The author also said she was turned down many times before her first work was published.
When asked, she said: "My agent knows better than I do. I don't know but, it was a lot. A lot of people didn't want it. A lot of people just sent it back, virtually by return of post. It was like a boomerang."
'Faith in story'
She added: "I did really believe in it. I just thought, 'no, this is a good story'. For some reason, and I wasn't very resilient at all at that time in my life, I was a wreck in a lot of ways.
"But for some reason I can even remember being quite pleased with it. I know it sounds masochistic but I was even quite pleased with the rejection letters. I just had faith in the story."
Rowling said there was a "very low point" when a publisher said they were not interested in her work, having had it for six months.
And the author admitted that not all her children had read the Harry Potter books.
"I read David the first one, he's seven, and we're going to start the second one quite soon. My dread is that they'll go to someone else's house and see the films there before I get to read them the books," she said.
"So I should maybe send a slip round to other parents saying 'please do not show Potter films, have not seen yet'."
Clips of the interview were released on www.oprah.com.