Jonathan Franzen book shelved over printing error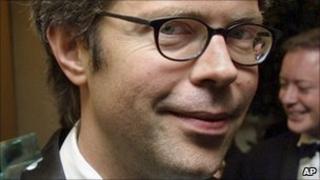 Thousands of copies of the latest book by US author Jonathan Franzen are being recalled because of a printing error.
Publishers HarperCollins said "minor corrections" failed to make it into the final copy of Freedom.
More than 8,000 copies of the book have been sold since it was released earlier this week. Readers are able to exchange their copy for a final version.
A HarperCollins spokeswoman said the mistakes were "typesetting errors" and did not affect the plot.
"They are minor corrections, things like typos and punctuation errors," she said, "but, obviously, if you're Jonathan and you have spent 10 years working on a novel, you want the finished product to go out."
A new edition, with the final, approved text will be available early next week.
A statement on the publishing house's website said the new edition would be identifiable by a sticker containing "a review quote from the NY Times".
HarperCollins said there were 80,000 hardback copies of the book in the first UK print run, and some would "inevitably" remain in shops.
US copies, e-books and audio books have not been affected.
Anyone wishing to exchange their copy are being told to contact HarperCollins via a customer hotline. Full details are available on their website.