Ben Stiller and Edie Falco to co-star on Broadway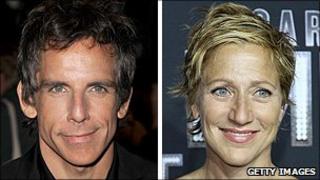 Film actor Ben Stiller and Nurse Jackie star Edie Falco are to appear opposite one another on the New York stage, it has been announced.
The pair will play a married couple in a production of black comedy The House of Blue Leaves by John Guare.
Meet The Fockers star Stiller made his 1986 Broadway debut in the play, but will take a different role this time.
Falco, who made her small screen name in The Sopranos, has numerous Broadway credits to her name.
No further details about the production have been released, which will be staged at the Walter Kerr Theatre next spring.
Stiller has starred in several box office hits, including Zoolander and There's Something About Mary.
Earlier this year, Falco won an Emmy award for her role as the dysfunctional medic in US TV comedy Nurse Jackie.