Tony Curtis dies: Your reaction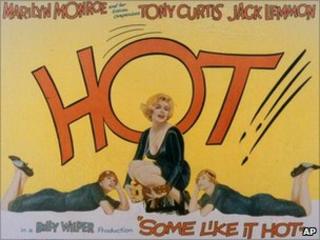 Hollywood star Tony Curtis has died at his US home at the age of 85, according to ABC News.
The Oscar-nominated actor, who starred in Some Like It Hot opposite Marilyn Monroe, passed away peacefully in bed, a family spokesman said. The star received his Oscar nomination in 1959 for The Defiant Ones, in which he starred with Sidney Poitier.
BBC News website readers have been sharing their memories of the actor:
Film star Tony Curtis dies at 85
Your comments
I remember the afternoon matinees during the summer school holidays and also weekend films in which he starred. A great actor and human as he did a lot for his native Hungary. RIP Tony, a fine actor but a greater man. Bill Aulak, Hitchin
I loved Tony Curtis - partly because everyone thought my dad looked like him when he was younger! Same black hair and twinkly grin. I went to see him at the NFT a while ago and he told some brilliant Hollywood stories in the most entertaining way. You know how you go to these things sometimes and the star can barely be bothered to hide that they are there out of duty? Well Tony was fantastic - really gracious to the audience and his fans, throwing himself into storytelling and interacting with the audience (though it was clear he was getting frail). People loved him and it was a really special evening. I'm off to watch Some Like It Hot now. "Bingowings", Surbiton
My mum met him once at LAX airport in LA. My dad had gone to get a trolley and was trying to attract my mum's attention by pointing at Tony Curtis, but my mum didn't see him. In the end Tony Curtis leaned over to my mum on his way past and said I think he is pointing at me, my dear. Mum said he was not a bit starry and really pleasant. Great actor and star, he will be sadly missed. L. Cooper, Manchester
I remember in 1972 watching Tony Curtis and Roger Moore filming the Persuaders series in Black Park by the river. He was such a gentleman and an amazing actor with a flare for the public. RIP. Dave Williams, Brixworth, Northampton
How sad, he was such a lovely actor, and I best remember him in Spartacus, one of the best films ever. He was so good looking, the quintessential idol of teenagers in the 50's, and into the 60's too. Jane Neal, Littlehampton
Though he never really cut it for me as an actor, the fact that he spent millions of his own money refurbishing the Central Synagogue in Budapest is testament enough to the man for me. The building is now magnificent and stands as a monument to the atrocities meted out to his Hungarian ancestors, as well as being the hub of the local Jewish community. Andy Harvey, Warwick
Today everyone will be talking about Some Like it Hot, but it was roles like Joker Jackson in The Defiant Ones and the unscrupulous Sidney Falco in Sweet Smell of Success that made him a true legend. He will not be missed, because his work will always live on. David Neary, Dublin
Brilliant as the great Leslie in The Great race (1965), cast alongside Jack Lemmon once more. The first time I watched it I had to pop out to the kitchen to combat attacks of hiccups from laughing too much. Very versatile actor, he will be missed. Mark Merrigan, Stony Stratford, Milton Keynes
What comes straight to mind is Tony Curtis in the British TV series The Persuaders. It was part of my childhood landscape. The great chemistry and geniality between him and Roger Moore. A great double act. But my favourite endearing memory of him is as a very convincing jazz playing gal in Some Like It Hot. Richard Bevan, London
Tony Curtis was once asked about Elvis, who had modelled his famous hairstyle on Curtis'. He recalled how when walking through the studio lot one day Elvis suddenly pulled him into his trailer. The "boy" talked excitedly: Elvis: I just want you to know how much of a fan I am of yours, Mr. Curtis. Tony: Don't call me Mr Curtis. Elvis: What should I call you, then? Tony: Just Tony… (pause) What should I call you? Elvis: Mr Presley. Gary Williams, Weston-super-Mare