Delayed Apprentice takes on the recession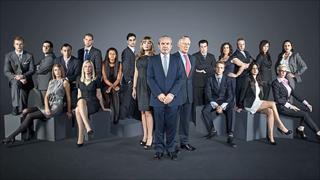 The cut-throat competition and tense boardroom stand-offs of The Apprentice are finally making a return to the small screen.
Its sixth outing, delayed by the general election, is back with no-nonsense entrepreneur Lord Sugar at its helm, and 16 candidates hungry to become part of his empire.
While the booming theme music and ruthless ambition of the contestants remain, the latest series is reflecting the cruel realities of the recession.
One of the candidates, Alex Epstein, is an unemployed communications head, while Raleigh Addington is a university graduate who has yet to find work.
"The economic situation has seen many people being made redundant or seen their businesses fail through no fault of their own," explains Lord Sugar.
"They're very capable people and we thought we'd look for a few of those people and give them an opportunity.
"Failure is part of a learning curve and these people need a chance. We tried to prove it can be possible to come through it and be a winner."
But the business supremo still expects the best from all his hopefuls, irrespective of their circumstances.
He still does not suffer fools gladly, recalling when one of the latest candidates tried to win him over with over-zealous praise.
"If you schmooze, you lose, in my boardroom," he declares, adding that a lot of their bravado and excuses are "a drone you ignore".
One aspect of the new series he cannot gloss over is that it was filmed late last year and is only just seeing the light of day.
"It was a bit of a mess to be mixed up with all that election stuff," he says, which has placed it firmly in the autumn schedules.
"If it reaches massive viewing figures then someone at the BBC has got to have the balls to put it back to Spring," adds the Labour peer, suggesting that has yet to be decided.
He scoffs at the suggestion that The Apprentice now finds itself lining up alongside The X Factor and Strictly Come Dancing, saying "it's like comparing EastEnders to Match of the Day".
"We're a business programme. Simon Cowell's got that great show which has an old-fashioned format going back many years and has been jazzed up nicely."
Comedy sausage-making
Along with the schedule change, Lord Sugar's associate Margaret Mountford has been replaced by football executive Karren Brady as his eyes and ears on the ground - a role she calls a "distant" one.
One subtle facial expression from Margaret spoke volumes in previous series, which Lord Sugar says was her domain.
"Karren is different to Margaret. Margaret has her qualities and Karren has hers. She's not there to replicate what Margaret did, and certainly not to pull faces and do what she wouldn't usually do in real life."
But some aspects of The Apprentice do not change, as returning aide Nick Hewer points out when asked if the quality of candidates has improved.
"No! They don't appear to have learnt anything from watching the previous series," he exclaims.
And he jokes that any sexual advances from female contestants to curry favour with him are rebutted.
Much of the new series remains comfortingly familiar, with the opening gambit of the first show revealing the hopefuls with their usual unpalatable amount of self-belief.
Paloma Vivanco fills the screen and tells us: "I'm a hyper-achiever. Everything I do is always a success."
They are rapidly thrown into a hands-on task which involves a fair amount of comedy sausage-making, while big personalities quickly clash and try to outperform each other.
Their gung-ho battle to be crowned champion will be played out on our screens between now and December, with a slew of boardroom showdowns to come.
And the nub of the entire show certainly has not altered - Lord Sugar pointing his finger and spitting: "You're fired".
The Apprentice begins on Wednesday 6 October on BBC One at 2100 BST.