Wyclef Jean treated in hospital for stress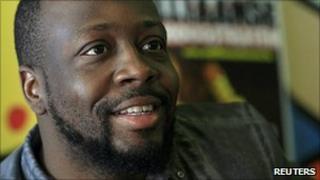 Hip-hop star Wyclef Jean was admitted to hospital at the weekend suffering from stress and exhaustion, his publicist has confirmed.
Marian Salzman said Jean was "suffering from stress and fatigue based on the gruelling eight weeks he's had".
The singer recently withdrew his bid for Haiti's presidency and had been working on a new album.
He is now at home recuperating and is expected to return to work in about a week, Salzman said.
A statement issued on behalf of Jean's family said: "Wyclef Jean has had an extremely gruelling three months - truly an exhausting eight months, since the earthquake when he recommitted himself to our homeland and his passion for our people.
"He is currently suffering the effects of lack of sleep and stress, global travel, even the endless public eye, and has asked that his fans and supporters bear with him for the next several days as he regains his physical health and stamina.
"Then he will be back out in front of the crusade to rebuild Haiti and his pledge to make it even better for business.
"Wyclef is planning to be back to work a week from today and just needs some space to regroup from sheer exhaustion."
Last month, Haiti's electoral council ruled that Jean was not eligible to run for President in his home country.
It was because he did not meet a requirement that presidential candidates maintain five consecutive years of residency in the country before running.
Jean, who was born in Haiti but moved to New York as a child, said his new album, due for release next year, would be titled If I were President, the Haitian Experience.