Why novelise the mystery of the Manic Street Preachers?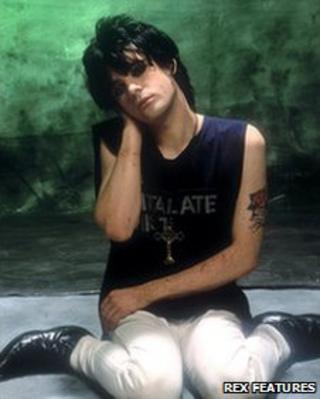 Authors who fictionalise the lives of real people in their novels is nothing new.
But what if that person is Manic Street Preachers lyricist and guitarist Richey Edwards, whose disappearance in 1995 remains one of biggest mysteries in rock music?
Ben Myers - whose novel Richard is out at the end of this week - has already found himself at the centre of a frenzied fan debate.
"I can't pretend to be naive and think it wouldn't divide opinion, but it's divided opinion far more greatly than I expected," says the writer and music journalist.
"It's getting some pretty positive reviews, but messages are filtering through from some people who are not happy," he says.
"There's been quite a lot of name-calling, but I've actually had some nice messages from people who kind of knew Richey Edwards. They've quietly got in touch and said you've captured him in a way that I remember him.
"The major criticism has come from people who haven't read the book but don't like the idea of the book."
The novel includes Myers' fictional take on what happened to Richey Edwards after he checked out from a London hotel on 1 February 1995, ahead of a US tour. He was 27.
His car was found two weeks later at a service station near the Severn Bridge. The Welsh musician was declared presumed dead in November 2008.
'Artistic licence'
Myers, who became a Manics fan as a teenager, never met Richey Edwards.
"If I knew him personally I don't think I'd have been able to write a book of this nature. It takes an outsider to do it."
He adds: "I saw the band play quite a lot, and they soundtracked some of my formative experiences.
"I was quite a committed fan but never to the levels of deep obsession. I saw their flaws as well. I wasn't blinded by that devotion."
Myers recalls his first month at university "sat in some room drinking vodka in some strange town listening to The Holy Bible - which was probably a bad idea".
The book's publication at the same time as a new Manic Street Preachers album is "just coincidental", says Myers.
But what made Myers want to write the novel?
"My background is music journalism, but I've also had a novel out and a few short stories published - and as a fan of the band in the '90s, I hoped to combine the skills I picked up as a journalist with my love of fiction."
While the novel features characters based on real people and events, "there's a heavy amount of artistic licence involved", says Myers.
"I researched it quite heavily," explains Myers. "I watched every interview that's available, read every press cutting - there's a lot of stuff out there. The Manics were always very publicity-friendly.
"I also tried to immerse myself in the things that Richey was into - I read a lot of novels he was reading shortly before his disappearance."
For a book that approaches Richey's alcoholism, anorexia, depression and self-harm from a first-person perspective, Myers' novel is not without its lighter moments.
"I wanted to put a bit of humour in there because - from what I can gather - Richey Edwards did have a sense of humour that wasn't always obvious.
"If you read some of the early interviews some of the things that him and Nicky Wire said was quite hilarious. They were like two old women sitting on a park bench commenting on the world as they saw it in a bitchy, but quite endearing, way."
Manics bassist Nicky Wire has told the NME that he "found it too upsetting" to read the novel, but said it would be "two-faced" of the band to try to put an embargo on it.
"I never expected them to like it," says Myers. "All I could have hoped for is that they could accept or appreciate what it is I'm trying to do."
Myers has written to the Edwards family, explaining why he wrote the book and "a little bit about myself and about the influence their son had on me and people like me".
He's sent a similar letter to the band too.
"I have to accept anything the Manic Street Preachers say about it, but I think the comments that I've heard have been fair enough.
"Given some of the things Nicky Wire has said in the past about some people I think he's probably been quite charitable. It could have been far, far worse."
Richard by Ben Myers is published by Picador on 1 October.