JK Rowling to appear on Oprah show for first time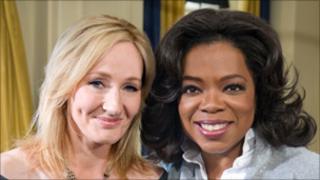 Harry Potter author JK Rowling is to appear on Oprah Winfrey's US chat show for the first time on Friday, 1 October in a pre-recorded interview.
The Scottish writer will discuss whether she will write another book about the boy wizard.
She also tells Winfrey that she knew her life had changed forever on her second book tour of the US, when she found the fans "Beatle-esque".
The best-selling author has not given a major interview for nearly three years.
Her chat with Winfrey took place in Edinburgh earlier this year.
She reveals to Winfrey that coping with the pressures of sudden stardom was not easy.
Film release
"You ask about the pressure. At that point, I kept saying to people, yeah I'm coping... but the truth was there were times when I was barely hanging on by a thread."
Rowling rarely concedes to interviews, although she discussed her favourite books and authors for Winfrey's O magazine in 2000.
She listed Jane Austen and Roddy Doyle as her favourite authors.
Forbes magazine has listed Rowling as one of the richest women in Britain.
In 2004, it said Rowling had an estimated wealth of $1bn (£631m).
Rowling recently donated £10m to the University of Edinburgh to set up a multiple sclerosis research clinic.
The writer, whose mother Anne had the disease and died aged 45, said the funds were to help attract top researchers to seek a cure for MS.
Part one of the seventh Harry Potter movie, Harry Potter and the Deathly Hallows, is set for release in November.