EastEnders birth footage complaint not upheld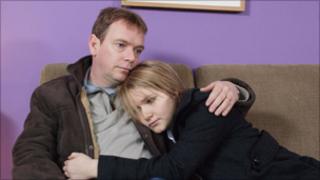 A complaint made about educational footage of a woman giving birth being shown on EastEnders has not been upheld by watchdog Ofcom.
The woman, named only as Ms K, had complained that her privacy and that of her baby son had been infringed by the broadcast of two EastEnders episodes.
The character Ian Beale was seen showing his daughter a childbirth DVD to scare her into having an abortion.
But Ofcom found the BBC soap had not infringed the mother and son's privacy.
Face cleaned
In making its decision, the media watchdog took into account the fact that the footage of the woman giving birth to her son was already in the public domain as part of a National Childbirth Trust (NCT) DVD.
It also noted that although the footage was of a very intimate and personal nature, it was very brief and unlikely to have rendered Ms K and her son identifiable.
At two points in an EastEnders episode on 11 March this year, the Beale family were shown gathered around the television.
Painful audio from the DVD could be heard, which included Ms K saying: "I don't want to do this any more."
'Ruined memories'
It also showed footage of the baby having his face cleaned just after birth.
On 12 March, another episode showed footage of the baby immediately after birth again but without any audio.
Ms K had argued the footage had been used without her consent.
She said the programmes had "trampled" over the birth of her son and had ruined her memories of birth forever.
The BBC said the footage was placed in the public domain by the NCT with Ms K's consent by means of the DVD.
The BBC added that they had sent the NCT an email on 15 December 2009 asking it to confirm that the mothers in the DVD - one being Ms K - were happy with the possibility of an extract being used in EastEnders and that the NCT confirmed this was the case in a subsequent phone call.
The BBC said it now recognised that Ms K had given the production company that made the DVD her consent for footage of her son to be used.
However it was with the proviso that she "be advised by the NCT: if it was a definite, and when it would occur, and for what use, for my final authority."
But the BBC added this was never conveyed to it by either the production company or the NCT.