Green Day singer Armstrong joins Broadway stage show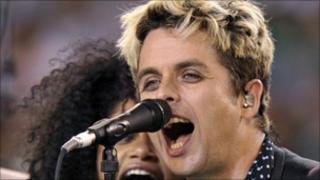 Green Day singer Billie Joe Armstrong has joined the Broadway show based on his band's 2004 album, American Idiot.
Armstrong, who composed and co-wrote the musical, will make his Broadway debut as drug dealer St Jimmy for eight performances between 28 September and 3 October.
He will then leave to begin a tour of South America with his band.
The musical is about an anti-hero who escapes from suburbia and finds sex, drugs and rock'n'roll in the big city.
Grammy winner
Armstrong is temporarily replacing actor Tony Vincent, who is on leave until 12 October for personal family reasons.
The album American Idiot includes the title track and Boulevard of Broken Dreams, which were both hit singles for the post-punk group.
It went on to sell more than 12 million copies worldwide.
Green Day's latest album, 21st Century Breakdown, also won this year's Grammy for best rock album.
American Idiot won the same award in 2005.