Amy Macdonald's 'strange life'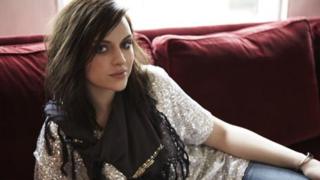 She has the hits, the looks and the footballer fiance, but Amy Macdonald isn't your typical pop star.
The Scottish songstress shuns celebrity, and spends most of her life on the road - especially in Europe, where she is the biggest thing since monetary union.
Her 2007 debut album, This Is the Life, sold more than three million copies there, going platinum four times in Germany, and five in Switzerland.
This year's follow-up, A Curious Thing, debuted at number one in three countries, and reached number four in the UK.
But the 23-year-old, who is engaged to Bournemouth striker Steve Lovell, prefers to keep a low profile at home - as she told the BBC News website.
How hectic have the last three years been for you?
It's been pretty mad. It's strange, because I've never really had the time to sit down and take it all in.
What's the longest break you've had?
I had two months at the start of this year - but I had to write and record the new album in that time.
Well, that's not time off, then.
Exactly. So, I get the odd week here and there, but you can never relax because you have to wash your clothes! People are sometimes shocked that I still do my on washing, but I think it's kind of weird handing it over to a stranger.
You're probably more famous in Europe than at home. What's the secret to your success overseas?
I've been told that people like that there are no gimmicks. I just go out and sing my songs. I don't put on elaborate stage shows with ridiculous fancy dress. People really seem to like that over there.
Do you get asked strange questions by European journalists?
I was doing an interview the other day and they were obsessed with McDonalds - as in the fast food chain. I got asked if I liked McDonalds, and the next question was whether I'd ever been bullied because of my surname. And I was saying, "not really, because Macdonald is probably one of the most common names in Britain". I think people are kind of over the McDonalds/Macdonald thing!
How do you keep track of which country you're in?
My phone company send me a text every time I cross a border. So the band and I gauge where we are by the text telling us how much it costs to make a call from Switzerland, or Norway, or wherever we may be.
What's the worst hotel you've stayed in?
It was a little B&B I stayed in when we played Glastonbury one year. It was just absolutely disgusting. The carpets were damp, there was mould on the walls and there were no curtains. It was all in a courtyard, so the shower had no curtains covering it from the outside world! But it was better than a tent, I suppose.
Is it experiences like that which inform the lyrics on your album's title track: "This life I lead is a curious thing"?
Totally. It is so strange. My band and I sometimes can't believe where we are in the world and what we're doing. But I'm very privileged to be in this position.
Your singing voice is much more deep and dramatic than your speaking voice. Where did that come from?
I don't know. I just open my mouth and that's what comes out. People are sometimes a bit shocked, especially if they've had a conversation with me beforehand!
You've said you will never use auto-tune on your albums. Why not?
It's a cop-out. It's just hiding. If you put lots of auto-tune on your voice on the album, people are going to be disappointed when they come to see you live. The imperfections make it better, more natural.
It can be really dangerous to use it in concert.
I agree. The worst one I saw was when Billy Joel was singing at the Super Bowl and they'd put the auto-tune in the wrong key. So he was singing and it had that horrible robotic noise, because it was trying to correct him to the wrong key.
With all your success, how do you keep your feet on the ground?
I'm always surprised when things go well, and always really excited about it. Even now, when I'm out driving, if my song comes on the radio, I make everyone be quiet and listen to the very end. I don't think I'll ever get used to it.
Do you play drums on the steering wheel?
I turn it up loud and think "wow, this production sounds great!" and I can't wait to hear what they say at the end of it. And if they say nothing, I get really angry. It's like "grrr, they're not promoting it!". On the other hand, Chris Evans has said a couple of times recently "that's another great tune by our Amy," and that makes me smile.
Talking of driving, is it true that you've been lobbying to get onto Top Gear?
I've not been pestering them or anything but I do love Top Gear. I think it's really funny, and I've always been excited by cars and things that go fast.
And Scotland has a few great roads to fling a car around...
Yeah, if you go outside the city, there are a good few country roads where you can open it up a little bit.
What's the fastest you've ever gone down one of those country roads?
Oh, I couldn't possibly say. I've seen other people getting into trouble for glamorising breaking the law.
So you're admitting it was over the speed limit?
Oh... er, yeah.
Amy MacDonald's new single, Love Love, is out on 4 October and her UK tour begins on the 19 October in Manchester.