Memoirs of a dirty Libertine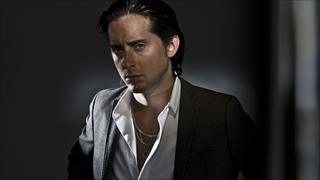 The last time former Libertines star Carl Barat spoke to the BBC was around the time of his stage debut opposite Sadie Frost in Fool For Love.
Whether through advice from fellow thespians or sheer terror, he insisted he was not going to cast an eye over his forthcoming theatre reviews.
"I've been reading reviews every day on the Tube to rehearsals and they're never great - there's always something cutting in there," he said.
In retrospect it was probably a wise decision, as theatreland's critics gave the play and its players a sound thrashing.
Eight months later, Barat - who obviously relented and glanced over the reviews - is fairly philosophical about the experience.
"I knew there weren't going to be rave reviews. I put myself out there for a reason - some call it masochism. I don't think I was stung that badly.
"Press nights are very unfair, it's always the first night. By the end of the month, I had it down."
Now Barat is stepping back into the critics' cross hairs again with a self-titled solo album.
Again, reviews have been mixed, but it is interesting to note that much of the criticism comes not for the quality of the music, but the fact that Barat has departed from the sound which has made him successful.
The jangly guitars of The Libertines and Dirty Pretty Things' ruffian Britpop have given way to broader arrangements, veering wildly between musical styles but unified by the theme of lost and unrequited love.
Collaborators include Neil Hannon of The Divine Comedy and Andrew Wyatt of Swedish electro-pop band Miike Snow.
"Everything became bound and gagged by guitars," he explains. "I had to take them out because it sounded like The Libertines or Dirty Pretty Things. Bringing in things like horns opened up my palette to a whole lot of things.
"I had to be talked into playing more guitars."
With no band - Dirty Pretty Things split in 2008 - and a new baby on the way, it was an album borne as much out of necessity as an actual desire to become a solo artist.
"I think the universe led me to it blindly, really.
"I finished the band because I had to, because infighting and being in my comfort zone had become more important to me than the music. Then I did nothing for a year.
"But what it was going to sound like was furthest from my mind when I started writing it, which is a good thing, rather than trying to write hits."
The album takes in the saucy antics of a boozy womaniser on the song Je Regrette, Je Regrette and Barat attempts a spoken word track, The Fall, which sounds like a gypsy tango.
Carve My Name features a lush string section with lyrics which run: "I cast my stones, at all the guilty others. A rubble tomb above us, of my design."
Some coded messages for former bandmates perhaps?
Having been largely silent for a year after Dirty Pretty Things split, Barat admits much of the album comes from a dark place.
"When I started writing, I really thought it was going to be all doom and gloom, gnashing my teeth and exposing my demons because of the place I was in.
"But it was cathartic. It was the equivalent in song of cutting your wrists to let people see you cutting your wrists but you don't actually want to kill yourself."
It has been six years since the highly publicised break up of Barat's first band, The Libertines, following the sacking of the drug-addicted Pete Doherty.
A recent thaw in relations between the pair led to some tentative reunion gigs, which preceded major slots at the Reading and Leeds festivals.
The shows, says Barat, "proved to me that we were as good as they said we were".
Rumours that the band will record a new album and tour next year will not go away, and Barat agrees that he and Doherty still have much to do together.
"I think we're at a new page, which is such a relief, and the future is unwritten. Life's too fast for me to make plans. If it's right next year, it's right next year," he says.
Most pressing in Barat's life, however, is his impending fatherhood. Girlfriend Edie is expecting their first child in December.
But what preparations does a 32-year-old rock star make for the arrival of a baby? Barat says the best advice came from Libertines bandmate John Hassall.
"From the very start of rehearsals until we parted ways after the gig, John was like 'I want to talk to you about a few things about fatherhood because I've just done it and can impart a bit of wisdom'," explains Barat.
"We never got the chance and then, as I was getting into a taxi, he grabbed me and said: 'Oh yeah, about fatherhood... just chill out about everything.'"
Hardly groundbreaking stuff "but that's him all over really," Barat smiles.
The companion piece to the new album is Barat's first book, Threepenny Memoir, which lifts the lid on his childhood and the career trajectory of The Libertines.
Promising to look back at the "creative highs and the drug-addled lows", Barat says the book is "very much not fiction" and gave him a chance to reflect on his time in the spotlight, giving him a fresh outlook on becoming a solo artist.
"I'm as much accountable for successes as well as failures, so it's a bit of a double edged sword but I'm looking forward to it.
"Not being in a band means I'm not accountable for anyone else - which is a good thing."
Carl Barat by Carl Barat is out now.