It's no time to be squeamish, says ex-arts boss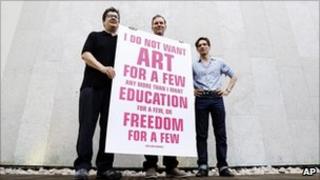 Arts bodies cannot be "squeamish" about where their money comes from in the current financial climate, the former head of Arts Council England has said.
Sir Christopher Frayling was speaking at a debate - Public Art, Private Money - at the Institute of Contemporary Arts (ICA) in London.
The debate focused on proposed government cuts, and where the arts should look for money in future.
The government is expected to announce cuts in its spending review next month.
Speaking about the relationship between art and business, Sir Christopher said: "Ever since serious art was invented some sort of subsidy has been required to protect it from the market.
"It's always been a mixed economy in this country and long may it continue. The issue is the tail must never wag the dog."
And he warned: "Now is not moment to be squeamish - it really isn't. If things are going to be as tough on 20 October as some of us think it's going to be, now is not the moment to get particularly squeamish."
Tax breaks
Speaking about corporate sponsorship, Alex Beard, deputy director at Tate, acknowledged there had been "a huge amount of controversy" over BP's backing of its galleries.
Earlier this year, there were protests outside the Tate summer party as activists called for the organisation to sever ties with BP over the Gulf of Mexico oil spill.
Beard said BP had been a Tate sponsor for 20 years but had "never once made an artistic suggestion or comment".
Colin Tweedy, chief executive of Arts and Business, said: "Since man crawled out of his cave he's been looking for someone to support his art. Business supports the arts because it's good for the business."
John Woodward, chief of the recently axed UK Film Council, said: "If I started being choosy about where money came from to make films, you'd never get any films made.
"If we're trying to make art or help artists make art then, in the end, the ends justify the means."
Woodward, who announced his resignation last week, said he wanted to see the government take steps to encourage philanthropists to help plug the funding gap.
"I think there is a widely held and deeply ingrained view right the way across society that it is the role of the state broadly to support culture and art," Woodward said.
"What I can't see on the horizon - in terms of public policy - are the strategies that might be brought into place to leverage philanthropy properly - and that probably takes you into the area of tax incentives.
"If the gap is going to be as big as people are suggesting, it behoves policy makers and government to think about what a proper tax break for the arts looks like."
Marcus Romer, artistic director of the York-based Pilot Theatre company, said: "It's all very well to talk about philanthropic giving, but the moment you move out of metropolitan centres it does become increasingly more difficult."
He suggested that a 30% cut in arts funding would make the company "unsustainable" within 18 months.
"It's a false premise to suggest that outside of London it's all sunshine and roses," he said.
Earlier this week Turner Prize-winning artist Mark Wallinger revealed a new work aimed at highlighting a campaign against the proposed cuts.
Wallinger's piece - entitled Reckless - shows Turner's 1839 masterpiece The Fighting Temeraire with a large hole in the middle, exposing the phrase "25% cut".
Chancellor George Osborne is due to announce the findings of the spending review on 20 October.