UK theatre helped boost economy by £2.8 billion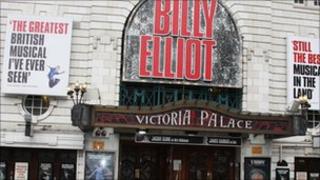 Tourists who visited the theatre last year helped boost the UK's economy by £2.8 billion, Visit Britain has said.
The national tourism agency said that 10% of the 30 million overseas tourists who came to the UK in 2009, went to see a stage show.
Visit Britain's Sandie Dawe said: "'This report shows that British theatre is making a massive contribution to Britain's economy."
London was the most popular area, with 2.2 million people watching a show.
A total of £1.9 billion was spent in the capital on trips involving the theatre, hotels, restaurants and other activities.
The report also revealed that, although going to the theatre was not the main reason tourists visited the UK, if they did see a show, they were far more likely to recommend the country as a holiday destination.
Musicals drew in the biggest crowd last year, with 64% of overseas visitors seeing shows like Chicago and Billy Elliot.
Plays attracted 25% of visitors, whilst 3% chose the ballet and 1% attended the opera.
Ms Dawes said that the "exceptionally competitive exchange rates" helped to get tourists through the theatre doors.
In January, the Society of London Theatre announced that musicals, opera and dance in London's West End had enjoyed a bumper year, after receipts topped half a billion pounds for the first time.