Controversial Nazi film released in Germany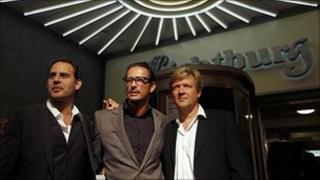 A controversial new movie telling the story behind an anti-Semitic film made in 1940 has been released in Germany.
Jud Suss - A Film Without Conscience looks at why the earlier film, also called Jud Suss, was a huge success under the Nazi regime.
It focuses on the leading actor's decision to join the cast, suggesting he was forced into it by propaganda minister Joseph ­Goebbels.
The original movie was banned in 1945.
It is still kept under lock and key in the German film archives, and can be screened only if accompanied by a lecture to make clear its historical context.
Offensive stereotypes
The new "making of" film proved controversial when it was screened at the Berlin Film Festival earlier this year, says BBC World Service arts reporter Vincent Dowd.
The general release will allow the German public to make up its own mind, he adds.
It is set in the Third Reich, where actor Ferdinand Marian, not yet a star, has to decide whether to accept or reject the lead role in a highly anti-Semitic version of the Joseph Suss story.
The real-life Joseph Suss Oppenheimer was a Jewish financier executed in Stuttgart in 1738.
A British film, Jew Suss, starring the German actor Conrad Veidt, was released in 1934 but banned in Vienna for its pro-Semitic tone.
The Nazi film, often considered to be a direct response to the British version, had little to do with historical fact.
Directed by Veit Harlan in 1940, it is full of grossly offensive racial stereotypes, portraying Joseph Suss as untrustworthy and scheming.
The new movie portrays Ferdinand Marian as eager to boost his career and aware that Goebbels wanted to see the film perform well.
An estimated 20 million Germans saw Jud Suss before the end of the war and it was also shown widely in occupied Europe.
Seventy years on, some German critics dislike Oskar Roehler's new film, complaining its attitude to the central character is weak.
The portrayal of Goebbels has been criticised, along with a sex scene which some have branded ridiculous.
Critics widely agree that Roehler has changed too much historical detail for the film to act as a critique of the Nazi propaganda effort.
Earlier this year, Charlotte Knobloch, president of the Central Council of Jews in Germany, said she was unhappy with any film which featured Jewish stereotypes.