Bawdy 'John Milton verse' discovered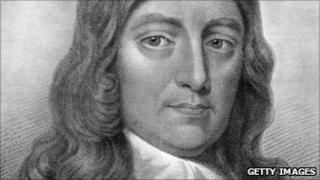 A bawdy poem attributed to Paradise Lost author John Milton has been discovered by academics at Oxford University.
The innuendo-filled poem, entitled An Extempore Upon A Faggot, was found in a collection of poetic anthologies.
However experts are unsure of its authenticity as the hand-written ditty is in a style unlike Milton's own.
It is thought the poem may have been attributed to Milton by a jealous rival to bring scandal upon him.
Dr Jennifer Batt, who discovered the poem, said: "To see the name of John Milton, the great religious and political polemicist, attached to such a bawdy epigram, is extremely surprising to say the least."
"The poem is so out of tune with the rest of his work, that if the attribution is correct, it would prompt a major revision of our ideas about Milton.
"It is likely that Milton's name was used as an attribution to bring scandal upon the poet, perhaps by a jealous contemporary," she added.
Dr Batt found the poem while sorting through the Harding Collection - the world's largest collection of popular poetic anthologies and songbooks, owned by Oxford's Bodleian Library.
The university is in the process of digitising the collection to allow the public to access it online.