Downton Abbey - a very nice house in the country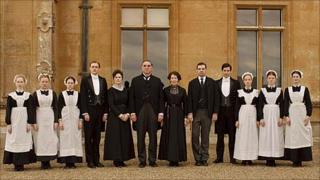 Will ITV1's new period serial Downton Abbey see the channel revisit its glory days as a purveyor of quality costume drama?
In 2002, actor and writer Julian Fellowes won an Academy Award for penning Robert Altman's stately home whodunit Gosford Park.
Eight years on, he has made another elegant country house the setting for a seven-part serial, exploring life above and below stairs in Edwardian England.
Opening in 1912, Downton Abbey follows the fortunes of an aristocratic family trying to maintain its traditional way of life in the face of a rapidly changing society.
Their world is inextricably connected to that of its servants, whose tireless dedication to their masters and mistresses does not stop them having their own agendas, concerns and ambitions.
"I was always interested in this way of life," explains Fellowes.
"It seemed so extraordinary to me people could all be living under one roof with such entirely different expectations."
The 61-year-old, known to millions as Monarch of the Glen's Kilwillie, needed little encouragement to explore this interest at Altman's behest.
Downtown, though, enabled him to delve much deeper into how a country pile used to operate in the years preceding World War I.
"Gosford Park was 120 minutes or something [actually 137], so there's lots of things you can't follow through within that format," he says.
"This offered the opportunity to go on with seeing these different parallel universes, the structures above and below and so forth."
Key to the serial's conception was Fellowes' desire to show the world of Downton as one on the verge of extinction.
"We particularly wanted to choose a time when the destabilising of it was just around the corner," he continued.
"Although it did go on until the Second World War, the First was a tremendous shot across its bows.
"The other advantage of starting in 1912 was it was a recognisably modern world," he adds.
"There was electricity, telephones, motor cars [and] trains. They're not living on some completely different, Jane Austen planet."
A cynical observer might regard Downton Abbey - largely filmed at Highclere Castle in Hampshire - as a pre-emptive challenge to the BBC's upcoming remake of popular series Upstairs, Downstairs.
Broadcast between 1971 and 1975, that ITV serial also dealt with the lives of masters and servants living beneath one roof in the early years of the 20th Century.
The programme will be resurrected later this year in a three-part series that will see Jean Marsh return as parlourmaid turned housekeeper Rose Buck.
Yet Fellowes insists any similarities between the shows - titles notwithstanding - are purely coincidental.
"We weren't aware of it when we started because it hadn't been announced," he says.
"All it says to me is television people are recognising there's a market for this kind of aspirational drama."
High-end costumers like Downton Abbey used to be a fixture on ITV, particularly in the early 1980s.
It was the age of Brideshead Revisited and The Jewel in the Crown, ambitious period sagas adored by critics and viewers alike.
In recent years, though, the channel has become home to such reality-based shows as The X Factor, Dancing on Ice and Britain's Got Talent.
Its drama, meanwhile, has tended to focus on gritty contemporary fare, usually with a crime-solving element.
Could Downton be seen as an attempt to reposition itself? Not according to Fellowes. "I don't know if I really understand those distinctions," he shrugs.
"Of course the BBC is lovely because you don't have to stop for advertisements.
"But I think whether you are writing or acting, whoever wants to make the show you want to do, hurrah for them."
"Our job is to make the show irrespective of where it ends up," echoes Gareth Neame, Downton Abbey's executive producer.
He does believe, however, that the show will be at home on "a broad church network" like ITV1.
So does US actress Elizabeth McGovern, who, in her role as Cora, Countess of Grantham, rules the roost at Downton with her husband Robert.
"I'd noticed there was a move away from costume drama on television," she says. "I think people miss it and they want it back.
"The tried and tested reality TV formula is getting old. I'm not against it, but I think we need something else."
"ITV's turned a corner in the last year or two in terms of its aspiration," claims actor Hugh Bonneville, McGovern's husband on the show.
"It has a great range now, from The X Factor through to this. It's given the channel a wonderful shot in the arm."
Viewers can make up their own minds when Downton Abbey opens its doors on Sunday at 2100 BST.