Wyclef Jean drops presidential Haiti bid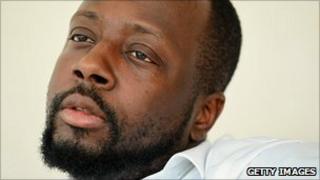 Hip-hop star Wyclef Jean says he no longer plans to run in Haiti's November presidential election.
The star's decision comes a month after his candidacy was formally rejected by Haitian authorities.
"After weeks of quiet but painstaking reflection with my wife and daughter, I have chosen to end my bid for the presidency of Haiti," he said.
The singer instead plans to release an album, called If I Were President: The Haitian Experience, next year.
"Though my run for the presidency was cut short, I feel it was not in vain," he said.
Jean added that his was "not an easy conclusion to reach" and that it was "thoughtfully made".
'Ultimate goal'
The Haitian-born star was told by the electoral council that he could not run for president because he had failed strict residency requirements.
The constitution requires candidates to have lived in the country for five years prior to an election. Jean now lives in the US.
The singer and producer originally said he would appeal the decision, but officials said the electoral body's ruling was definitive under Haitian law.
"Some battles are best fought off the field, and that is where we take this now," Jean said.
"Our ultimate goal, in continuing the appeal, was to further the people's opportunity to freely participate in a free and fair democratic process.
"In that regard, the appeal was meant to improve the electoral process for all, candidates and voters alike.
"It is one way that I hope to bring light to the functioning of a government that is often ranked as one of the most corrupt on the planet, resulting in a country that is by most measures the poorest in the Western world.
It's not about my candidacy, this appeal was meant to address the shortcomings of the process for every Haitian."
The presidential election was originally scheduled for earlier this year, but was delayed due to the devastating earthquake that struck the country in January.